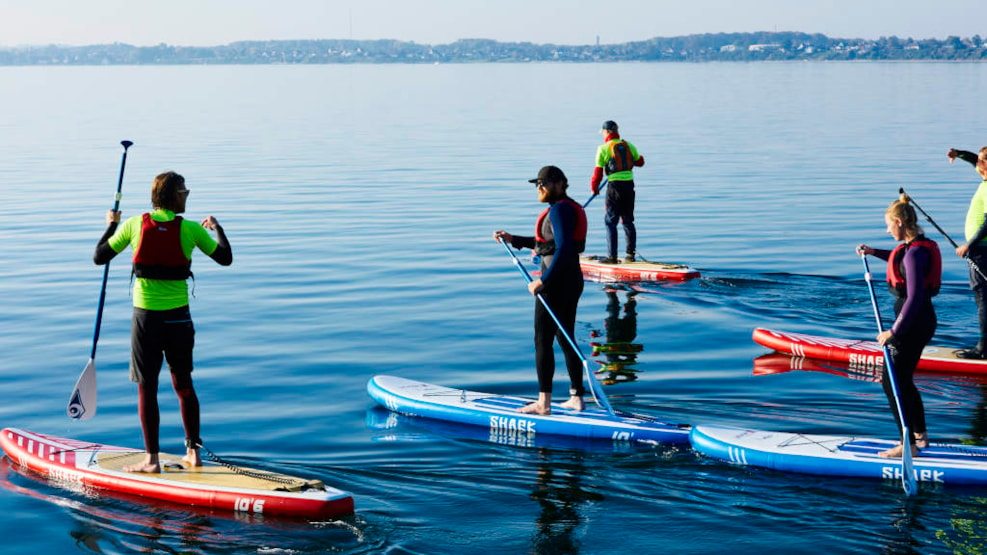 East Coast Surfshop
At East Coast Surfshop you can shop for water sports equipment, learn to surf or relax in the shop's café.
A mecca for water sports enthusiasts
At East Coast Surfshop you get a surf and SUP school, shop and café in one! The shop is located in Fredericia's new Kanalbyen district, where the canals with their direct access to Little Belt are perfect for water sports and play. Here you can shop for boards, wetsuits, clothing and other accessories for water sports and swimming, enjoy a cup of freshly brewed coffee, participate in various events or meet other water sports enthusiasts.
Try surf school or swim club at East Coast Surfshop
East Coast Surfshop opened in 2018, and since then the shop and owner Martin have been a permanent fixture in the diverse Kanalbyen community. The shop rents out SUP boards (Standup paddleboards) on an hourly or daily basis, and you can also book SUP lessons or tailor-made events for schools, companies and individuals.
You can also join the East Coast Surf Shop Sauna and Swim Club. In addition to being part of a bathing community based in Kanalbyen, members also have access to both regular and infrared saunas, which are available to use in both summer and winter.
Contact East Coast Surfers for more information!
Café and shop for water bugs
In the East Coast Surf Shop café you can enjoy a delicious barista coffee brewed from carefully selected coffee beans, or other hot and cold drinks, as well as a muffin or croissant with your coffee.
Or browse the East Coast Surf Shop for premium-quality products. The shop sells surf equipment and accessories from brands such as Brunotti, Oxbow, Trick Board, GUL, Aztron, Aqua Marina, Overboard, Aquatone, and SIC as well as clothing from Lakor, Hjemhavn and Brunotti. Some of the shop's products, such as boards and wetsuits, can also be purchased online. Check out the online shop here!
SUP events in Fredericia
East Coast Surfshop can organise your next event. Whether it's a children's birthday party, corporate event, stag or hen do or something else entirely, East Coast Surfers can put together an event or course to suit your needs and level. You're guaranteed fun activities, trained instructors and a tailored programme, so you and your guests can have a great experience.
Read more about SUP events here or contact East Coast Surfshop to learn more about event and course opportunities.
See what others are sharing on Instagram