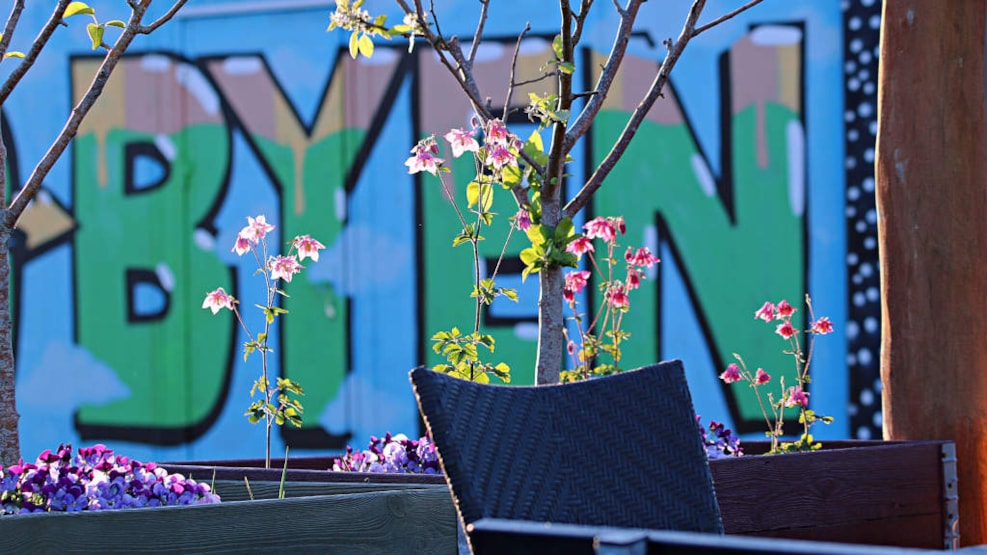 C-byen
C-byen - An experimental urban space in Fredericia's Canal District.
C-byen is a temporary urban space that has been built using converted shipping containers and mobile sheds, located in Fredericia's Canal District out towards the eastern harbour walkway along Gammel Havn (the old harbour). The containers are positioned at the site that will eventually become the home of retail trading outlets in the Canal District. The containers are positioned in a formation that creates a temporary trading street out towards Kajgaden and an Atrium courtyard with plenty of space for communal activities, drinking coffee and communal dining at the available benches and tables.
The converted shipping containers are home to small niche stores selling clothing, jewellery, basketwork, surfing gear, accessories and delicacies, and to a stage container where you can see puppet shows and concerts of all types, as well as talks for those with something on their mind that they would like to present.
C-byen is a small haven in Fredericia's harbour, where residents and citizens are invited to take part in the community alongside the users of the district. The tempo is relaxed. Chilling is high priority, and everyone is welcome.
C-byen is one of the Canal District's temporary activities, which are intended to stimulate activation in these areas and help to create an urban area for people who are concerned about quality.
Is huset Fredericia
At Ishuset Fredericia, we sell delicious freshly baked bubble waffles topped with lovely Italian ice cream and many toppings included. If you want something warm to drink, you can buy a cup of freshly ground coffee.
Get Outdoor
Get Outdoor helps people who would like to enjoy nature and try out fun, exciting activities such as kayaking, canoeing, climbing, abseiling, hiking, MTB, mountain skiing, or even activities as simple as fire lighting and putting up a tent. We offer kayak rental and a zip line from our premises in C-byen.
which is run by Pia Skov Larsen - I am a seamstress and work with alterations and fitting, as well as repairs. I work with both textiles and leather clothing, as well as bags and soft home goods.  If you need the hem on your trousers or dress taking up, or the zip on your jacket needs replacing, please drop by my premises in C-byen. Check my opening hours at www.psremake.dk
Fredericia's East Coast Surf School and shop located in the Channel Town at Fredericia harbour. They offer rental of SUP (Stand Up Paddle) packages on an hourly and daily basis. SUP lessons and tailor-made events are held for schools, businesses and private individuals.
Surf equipment, clothing and accessories are available.
 The artist Emil Staggemeier found his style through the popular motif "BUSY PEOPLE", which depicts people looking at each other. Here he has chosen to take it one step further and use the faces as his hallmark. He works with acrylic paint, charcoal and pastel chalk to give his works a minimalistic and raw expression with sporadic lines and elements from the graffiti world.
Fredericia Photo Club is an active association where people, across gender, age and divides, come together to cultivate our common interest, photography. We have room for anyone with a camera and we mean it literally. We do not care about competitions and the last, newest and often also most expensive equipment.
At Firkantt, they love a good and modern wardrobe in black and white, and that the basic wardrobe in black and white is also in order. For them, it is important that you get the wardrobe where you are always sure that there is something that fits exactly to your mood and your everyday life. Clothes should last a long time and should be timeless to suit all the other clothes you buy within a year.
- Crosstrainere v Marco Wollau Tvilum 
Sanne has assembled a bunch of curly brains that make their own
production, needlework, handicrafts and unique things. The shop is part of the fantastic harbour environment in the container town in Fredericia.
- Long Play Records v Kevin Nielsen 
Fletteriget

The shop is called fletteriget and I live in the 'Bus container' in
atrium courtyard.
Knowledge of willow, merges and sells finished products in the form of
baskets, feed houses, trays, garden lights and much more.
The store owner is also happy to merge things to order.
During the summer, workshops will sometimes be held where children and
adults can try to weave a small thing.
 Read more about C-byen 
here
C-city is part of kanalbyen's temporary activities, which aim to support the activation of the areas and thus help to create a district for people with a focus on quality.
Read more at 
www.kanalbyen.dk