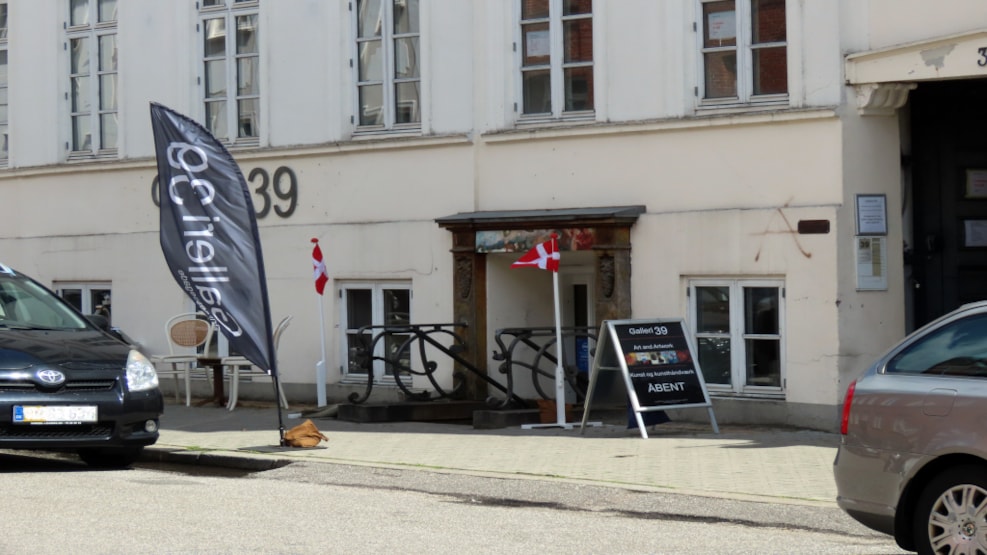 Gallery 39
Galleri 39 opened in April 2017 and is an association of around 24 artists who run the gallery together and focus on interesting, high quality handcrafts.
The gallery will regularly arrange for the exhibition of works by the individual artists, thus guaranteeing a dynamic gallery experience.
The gallery is installed in Prinsessegade 39, in the centre of Fredericia. In these surroundings you can experience paintings, collography, watercolor, photo, drawing, ceramics, bronze sculptures, iron, wood and soft stone, jewelry, hand-woven clothing, art books, art cards, etc.
Opening hours are:
Thursday 1-5pm
Friday 1-5pm
Saturday 10am-3pm
Sunday 12am-4pm
Group visits: contact Preben Andersen tel. +45 60 496 497

The exhibiting artists are:
Kent Nørby Andersen - Painting: E-mail: knas@ar10st.dk 
Susanne Wiese - Painting, E-mail: sw@arndt-wiese.dk 
 Doris Christine Jensen - Painting and weaving, E-mail: dorisogknud@youmail.dk 
Flemming Kastaniegaard - Iron sculptures, E-mail: f.kastaniegaard@profibermail.dk 
Preben Andersen- Painting, watercolour, collography and sculpture, E-mail: gre.pre@profibermail.dk 
Søren Rundstrøm - Ceramics, E-mail: rundstroem@gmail.com 
Jette Kofoed – Painting, E-mail: jette-kofoed@hotmail.com
Emma Høj – Watercolour, E-mail: emmahoj@gmail.com
Helle Thorbjørn – Watercolour, E-mail: helle@hellethorbjørn.com
Knud Lykou – Visual arts, E-mail: kclykoukc@gmail.com
Desireé Letman – Painting, E-mail: info@dletman.dk
Lizzie Jensen – Painting, E-mail: lizziejensen@yahoo.dk
Lene Kloch – Glass art, E mail: lenekloch@hotmail.com
Mette Skov Maersk – Painting, E-mail: mette@metteskovmaersk.dk
Signe Carlsen – Arts and crafts, E-mail: sicajerlev@gmail.com
 Kate Kanstrup – Ceramics, E-mail: katekanstrup@privat.dk
Dorthe Christensen – Painting, graphics, collography, drawing, E-mail: dorthe-c@c.dk
Annette Olander – Ceramics, E-mail: annetteolander@hotmail.com
Kirsten Stubben – Painting, E-mail: kirsten.stubben@gmail.com