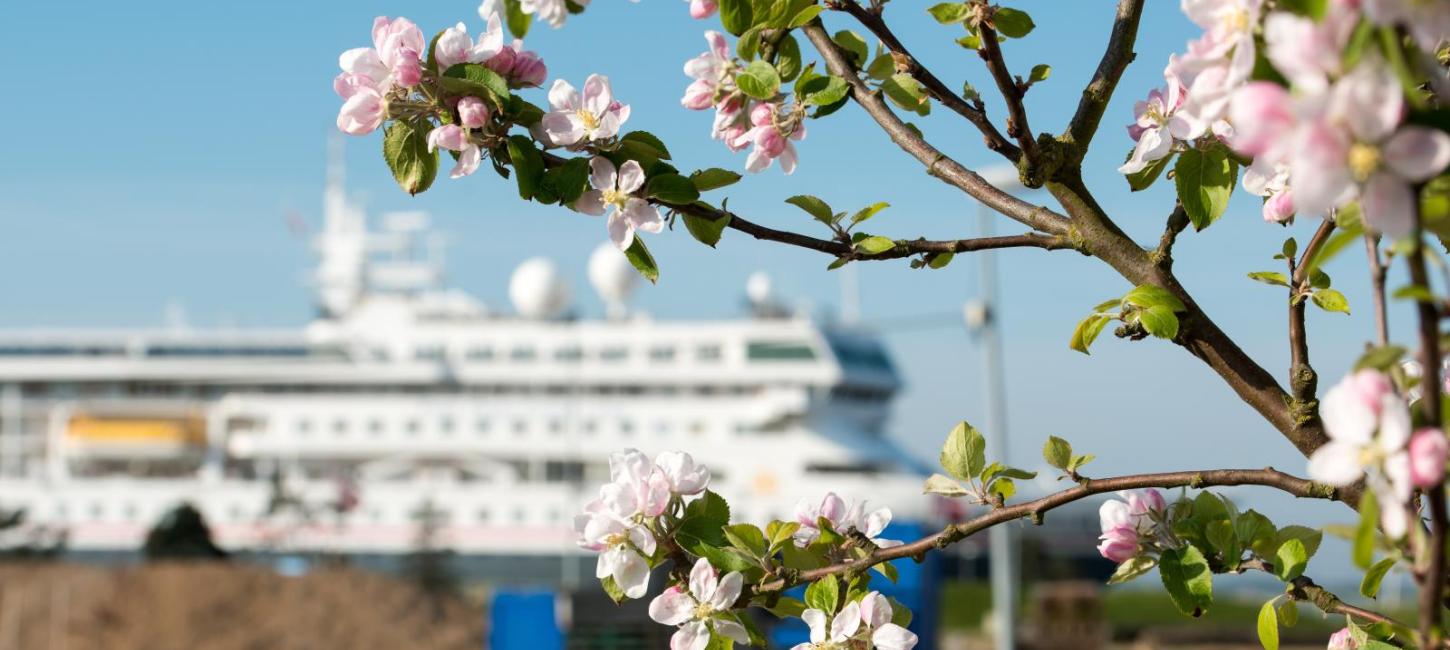 Cruise Ship Schedule 2023
Mark your calendar. Find the dates for the upcoming cruise ships in Fredericia in 2023 on this page.
Date and Program for Cruise Ship Visits
Come and experience the beautiful cruise ships up close in Fredericia. The city will be bustling with life and fun experiences.
Please note that changes and cancellations may occur.
December 7th: Artania
09:00 / 9 AM Artania arrives at Fredericia   
- Reception by Fredericia Cannon Guild
- Music by the Postal Orchestra
The Habour Esplanade
08:00 - 18:00 / 8 AM-6 PM The White Water Tower
- 20 DKK entrance fee. Please note, card payments only
Fredericia Ramparts at The Brave Soldiers Square
10:00 - 16:30 / 10 AM-4:30 PM Opening hours of the Telegraph Regiment's Historical Collection
The Brave Soldiers Square
09:00-18:00 / 9 AM-6 PM Christmas Market
City Hall Square
10:00-15:00 / 10 AM-3 PM Mini-train rides to City Hall Square and back
- 35 DKK per person, free for children
The Habour Esplanade
14:00-17:00 / 2 PM-5 PM Citizen 1849 strolls through the town
Around City Hall Square
12:00-16:00 / 12 AM-4 PM Opening hours of the Fredericia Town Museum
Jernbanegade
19:45 / 7:45 PM Farewell Concert by Artania with 7th Regiment's Music Corps
The Habour Esplanade
20:00 / 8 PM Artania departs
- Farewell Salute by Fredericia Cannon Guild
The Habour Esplanade
December 19th: Artania
09:00 / 9 AM Artania arrives at Fredericia   
- Reception by Fredericia Cannon Guild
- Music by the Postal Orchestra
The Habour Esplanade
08:00 - 18:00 / 8 AM-6 PM  The White Water Tower
- 20 DKK entrance fee. Please note, card payments only
Fredericia Ramparts at The Brave Soldiers Square
10:00 - 16:30 / 10 AM-4:30 PM Opening hours of the Telegraph Regiment's Historical Collection
The Brave Soldiers Square
09:00-18:00 / 9 AM-6 PM  Christmas Market
City Hall Square
10:00-15:00 / 10 AM-3 PM Mini-train rides to City Hall Square and back
- 35 DKK per person, free for children
The Habour Esplanade
14:00-17:00 / 2 PM-5 PM  Citizen 1849 strolls through the town
Around City Hall Square
19:45 / 7:45 PM Farewell Concert by Artania with 7th Regiment's Music Corps
The Habour Esplanade
20:00 / 8 PM Artania departs
- Farewell Salute by Fredericia Cannon Guild
The Habour Esplanade