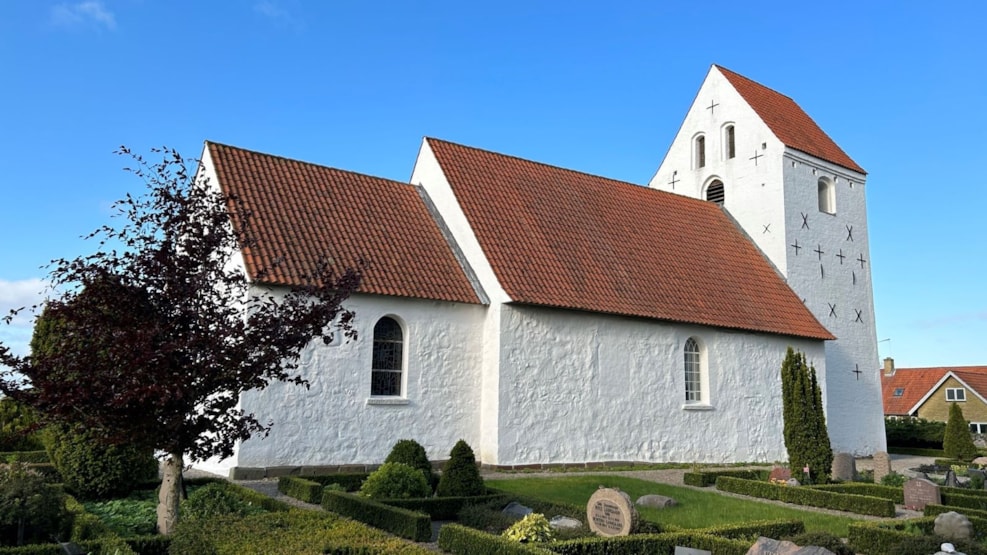 Bredstrup Church
Bredstrup Church is from from the late Romanesque period. The tower is from the late Gothic period.
Only the porch is more recent, from the 1800s.
The church and all the equipment that belongs to it, is exceptionally beautiful. The porch has since 1916 been adapted to the chapel, and you therefore do not see immediately the very beautiful pillar portal on the south door. Note the little man's head on the northeast corner of the choir's outside wall.
The baptismal font is from the Roman period, the altarpiece in the late Baroque style is from 1600s. The expressive altar painting, "The prodigal son's return" is a gift to the church painted by N. Larsen Stevns, 1920. When facing the choir decor and furnishings, skipping its colors in the eyes. The artist Hanne Vedels textile woven fabric on the altar rail and an end frame the altar in a very effective manner.
The current font is from Kongsted Church. The pulpit is in Renaissance style and from 1600s. and the closed priest chair is from the 1700s.
When you see the well-kept Bredstrup Church today it is hard to ímagine that the church was once in a state of serious decay and chaos.
In the centuries after the Middle Ages, the interest in church buildings and maintenance is not always present. Some church owners used the maintenance account for other things, and in many churches, the general care for God's house was small.
In the 1650s Bredstrup Church went through a rough time. The depredations of the Swedish Wars (1657-60) did not make matters better. After that the roof was badly damaged and the windows shattered. Altar and pulpit were gone. Ceiling and doors were missing - even the door to the cemetery was gone.
The damage was so bad that the church had to apply for grants for repairing the damage.
The state of Kongsted Church was much worse. It ended up with the Swedes tearing it down in 1657 and using the materials for the fortification of Bredstrup.