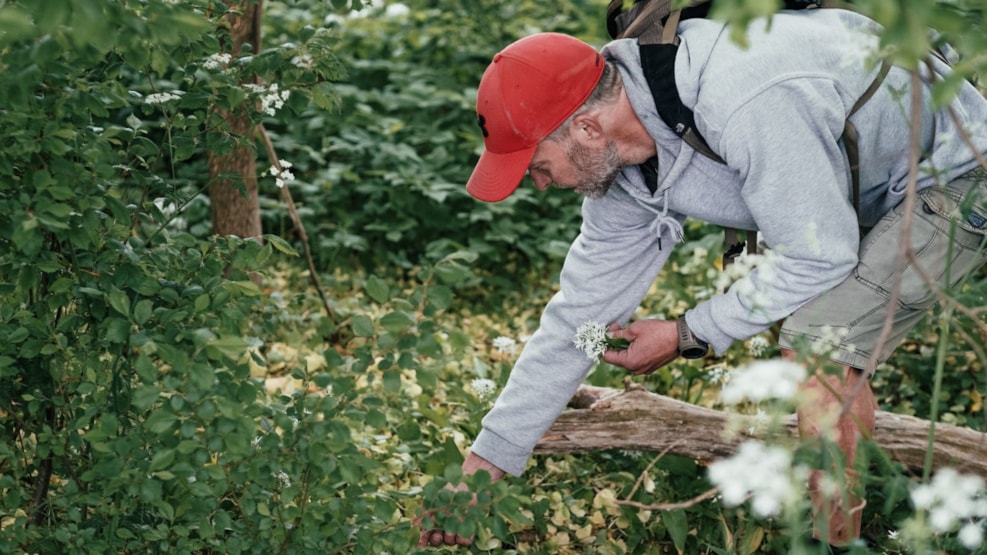 Foraging route on Trelde Næs
Trelde Næs' foraging route takes you to the area's many edible herbs and plants.
Nature's own larder
Trelde Næs has a designated foraging route for those interested in picking and gathering the local plant life. The route takes you through Trelde Næs' rich plant life with plenty of foraging opportunities. See a map of the route, also known as 'sankeruten' on Trelde Næs here!
In Danish, 'sanke' means to gather or harvest and covers everything that can be foraged in nature, whether for natural ornaments or edible wild produce. Picking wild food has become particularly popular again following the focus on Nordic cuisine, sustainability and climate in recent years, and many people are now jumping on the trend.
Wild food at Trelde Næs
Trelde Næs' rich and varied nature is a true mecca for both the beginner and the experienced forager. The area is home to an abundance of edible herbs, plants, berries, vegetables and fruits, which you can find along the designated route.
The route takes you both into the forest and along the meadow and beach, and while you forage you can also enjoy the beautiful natural surroundings. Along the coastal route in the shallow water you can pick different kinds of seaweed, and on the beach, you will find sea urchins, sea kelp and rosehips. In the forest, you'll find nettles, sedges, Spanish chervil, chives and onion cress.
Practical information
Free parking: Parking is free in the Trelde Næs car park. Address: Trelde Næsvej 290, 7000 Fredericia.


Toilet facilities: Toilets are available in the Trelde Næs Nature Centre . These are usually open all year round, but may be closed during periods of hard frost. The disabled toilet is located by the farmhouse in the car park.
Getting started with foraging
Getting started is easy, and there are only a few things you need to pay special attention to.
You are allowed to forage in all public forests, but in private forests you can only forage what you can reach from the road and path. According to Jydske Lov from 1241, you are allowed to forage no more than what you can hold in a hat – today, we say that this corresponds to what you can carry in one carrier bag based on the motto that there should also be enough for the next forager, and for nature itself.
Shelterture.dk has a great guide on the rules of foraging and safe foraging. See the guide here!
Remember that nature can be poisonous. Don't eat plants you don't know.
Wild food in Nature park Lillebælt
Naturpark Lillebælt has several designated foraging or 'sanke' routes and places where you can find ingredients for your next meal. Naturpark Lillebælt's website has more information about the routes, about the produce you are allowed to pick in the park, and about how to have a successful foraging trip.
See Naturpark Lillebælt's list of fishing opportunities and the many foods available in the nature park here!
See what others are sharing on Instagram