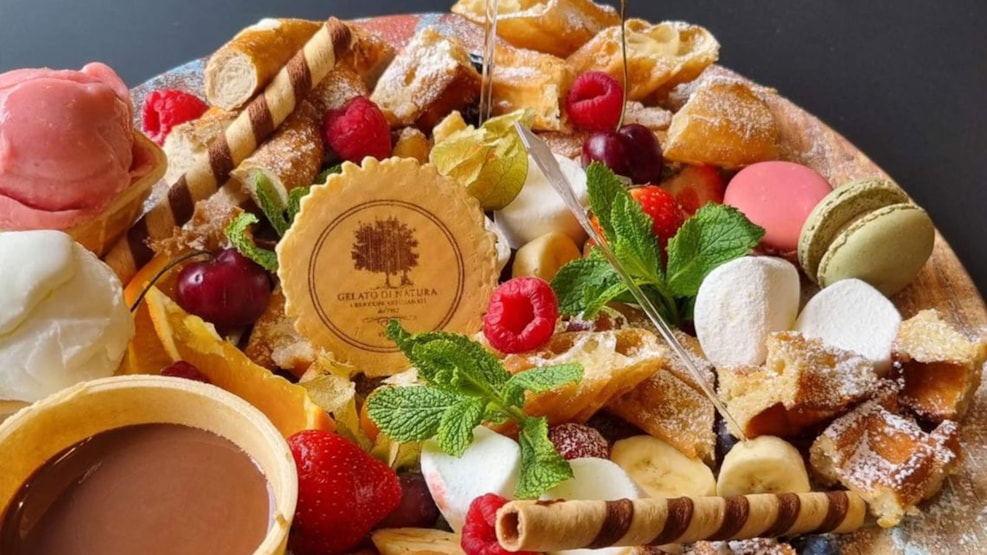 Gelato di Natura – Italienisches Dessertcafé
Enjoy authentic Italian ice cream and delicacies at Fredericia's cosiest dessert café.
Italian ice cream of the highest quality
Visit Gelato di Natura in Danmarksgade and try their tasty ice cream. The dessert café serves authentic Italian ice cream, produced according to genuine Italian traditions of a family-owned ice cream dairy near Venice. The ice cream is made in traditional "matecatori" ice cream machines, which ensure the creamy texture associated with Italian ice cream, without the use of hydrogenated fats. Gelato di Natura ice cream uses only the highest quality ingredients and natural colours and flavours.
Voted best ice cream concept
Gelato di Natura put ice cream at the centre of their desserts and always offer a wide range of delicious ice cream varieties. Gelato di Natura uses only the highest quality ingredients and natural colours and flavours, and this, together with the production method, helps to create a world-class ice cream concept. In 2020, Gelato di Natura's ice cream concept was voted one of the world's 6 best ice cream concepts at the SIGEP ice cream fair.
Dessert café – and much more!
As well as offering ice cream desserts, Gelato di Natura also offers a wide selection of other cakes and brunch, lunch and dinner dishes inspired by Italian cuisine. The café is also known for serving a traditional Italian espresso and has a host of other coffee specialities for you to enjoy when you visit the cosy café.
If you're looking for something refreshing, Gelato di Natura also has a drinks menu that includes Italian wines and bubbles (with and without alcohol), Italian beers, soft drinks, lemonade and iced tea, as well as aperitifs and cocktails. You can also mix your own milkshake with one of the 24 ice cream flavours at the ice cream counter.
See Gelato di Natura's menu here!
Ice cream bar for your next event
Why not serve Gelato di Natura's delicious Italian ice cream at your next event? Gelato di Natura offers different external catering packages, where you have the opportunity to choose the content from 60 different varieties of ice cream. Read more about ice cream catering here!
For special occasions, Gelato di Natura also offers dessert and ice cream menus, etc., which can be ordered and picked up at the café. Keep an eye on the café's Facebook page for more information.
See what others are sharing on Instagram