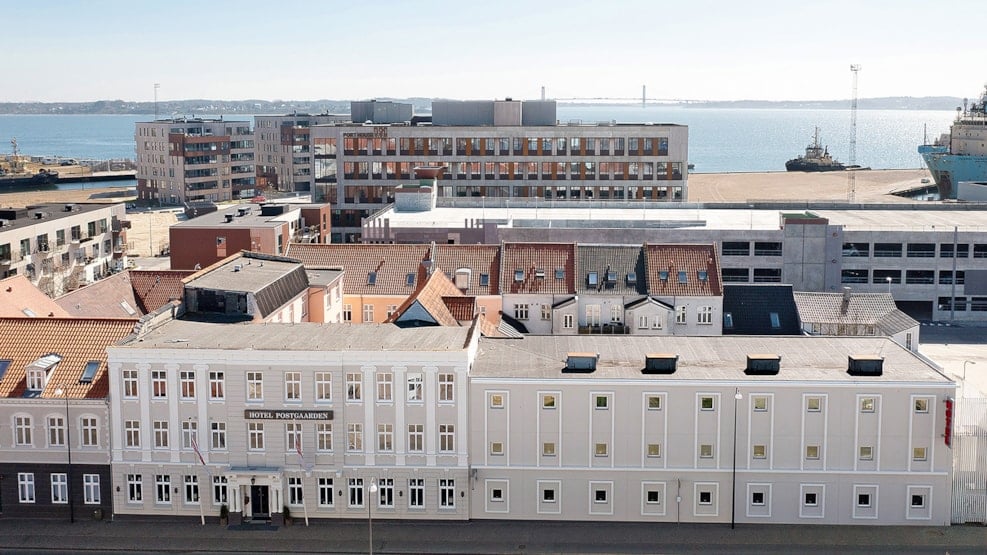 Green Experience
Hotel Postgaarden
Hotel Postgaarden is Fredericia's oldest and cosiest hotel, conveniently located in the heart of the town.
Accommodation at Hotel Postgaarden
Book your next accommodation at Hotel Postgaarden in Fredericia, the town's cosiest and oldest hotel right in the town centre. The hotel is decorated in an older classical style, has 48 rooms, several function and meeting rooms and a restaurant. The old wing of the hotel is decorated in a neo-classical and opulent style, while the newer wing, built in 1982, is decorated in a more classic hotel style with elements from the rest of the hotel's traditional décor, such as beautiful old paintings. The hotel opens onto a cosy courtyard with several seating areas. 
Practical information
Rooms: All rooms have a private toilet and shower and are equipped with a TV. 
Free Wi-Fi: Free Wi-Fi is available throughout the hotel, including all rooms. 
Walking-impaired: For people with walking difficulties, rooms can be booked on the ground floor of the new wing. For more information, contact Hotel Postgaarden. 
Free parking: The hotel has its own car park under the supervision of ParkZone A/S. A tablet is available at reception, where guests must register their vehicle on arrival to receive free parking. 
Compulsory energy contribution: Guests are charged an energy surcharge of DKK 38 per person per night. 
Hotel Postgaarden is part of the Danske Hoteller group. 
Postgården: Hotel and restaurant
Hotel Postgaarden's Restaurant serves tasty, hearty food in a classic Danish hotel style. The restaurant's rooms are decorated in an older, romantic style with warm colours, brocade curtains, large chandeliers and beautiful paintings. The hotel restaurant serves good hearty hotel fare. The restaurant is popular with both hotel guests and out-of-towners, so booking is recommended. Contact hotel staff for more information. 
Find more information about the restaurant and the menu here! 
Takeaway: You can also order a selection of dishes from the restaurant's menu as takeaway. See the selection of takeaway dishes here! 
Parties, meetings and events
Organise your next party, meeting, course or event at Hotel Postgaarden and Hotel Postgaarden's Restaurant. The hotel has two function rooms on the first floor with seating for 20 and 60 people respectively at long tables. You can also book the hotel's restaurant rooms, which consist of two rooms with seating for 50 and 30 guests respectively. 
If you are looking for a place to hold your next course or meeting, Hotel Postgaarden has put together a number of meeting packages for you to book. See Hotel Postgaarden's meeting packages here!  
You are also always welcome to contact the hotel to plan your next meeting together. Requests for menu, table setting, etc. must be agreed with the restaurant. Contact Hotel Postgaarden for more information.
Hotel stay with experiences
Hotel Postgaarden has a fantastic location in the heart of Fredericia. The hotel is located right by Kanalbyen, Fredericia's new district on the former industrial waterfront area, which now comprises residential housing, shops and green spaces.  
Fredericia's lively pedestrian streets are just a few minutes' walk from the hotel. Here you'll find great shopping, cafés and restaurants. 
Want to know what's on in Fredericia? See the town's events and activities calendar here! 
Click here to read much more about what you can see and do in the fabulous Fredericia! 
Thanks to Fredericia's central location in Denmark, Hotel Postgaarden is the ideal place to stay if you want to go on a trip to Aarhus, Legoland, Odense or Egeskov Castle. Fredericia is a short distance from most of Denmark. 
History of Hotel Postgaarden
Hotel Postgaarden's history dates back to 1880, when the hotel was built as a railway hotel. The hotel was therefore very popular and served both rail and ferry travellers until 1935, when Fredericia's present railway station and the Old Little Belt Bridge were inaugurated.
See what others are sharing on Instagram