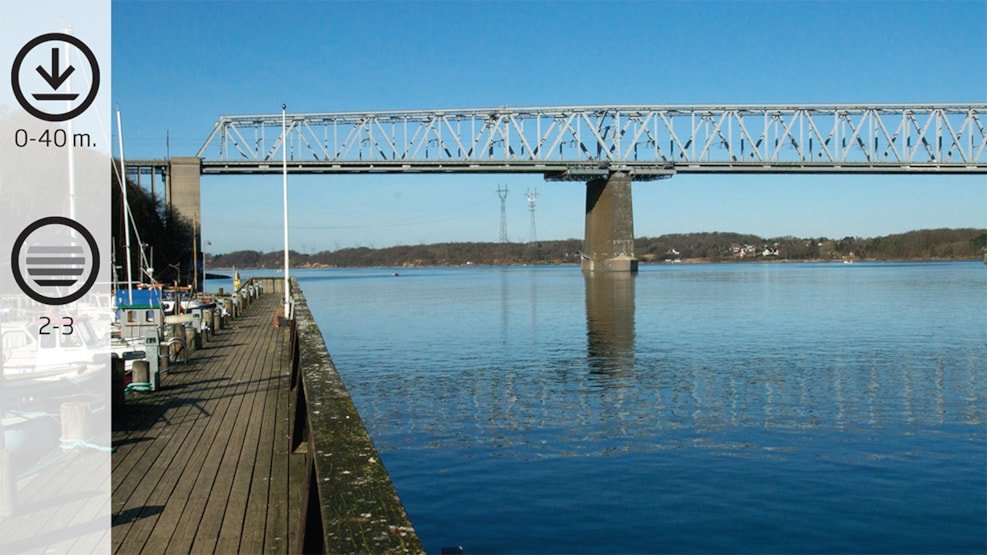 Kongebrogaarden
Denmark's best wall dive. Spectacular wall full of sea life. Large colonies of sea squirts, pink oaten pipe hydroids, giant plumose anemones and more. Chance of depth diving, down to 40 metres. Chance of experiencing lobster.
Facts
How to find: Driving at Brovejen, from Middelfart towards Jutland, turn right at Slengeriksvej. Approx. 100 Metres thereafter, turn left at Indevejen. Follow this road for 1 Kilometre, then yiu reach the parking space right after Hotel KongebroGaarden, approx. 20 Metres from the water.
Geocoordinates:
Longitude: 9.7106138994
Latitude: 55.511851499
Google Earth Coordinates:
Latitude: 55°30'42.99"N
Longtitude: 9°42'40.27"Ø
Getting in and up the water: You can enter the water from both sides of the Marina.
Highlights: The Wall
Air filling station: You can get your airbottle refilled at Hindsgavl Camping in Middelfart (open all year round) during opening times: Hindsgavl Camping. Alternatively ask the local diving club in Middelfart, Tel.: +45 3311 1323: Dykkerklubben Marsvinet
Best season: All year round
Dangerous areas: The harbour area with many boats. Diving prohibited within the buoys in the harbour area. Avoid getting further out in the belt and mark visibly with A-flags. Sailing close to the beach all year round.
Depth: 0-40 M.
Tide: Can be strong further out, but seldom strong close to land.
Level of difficulty (1-5): 2-3
Permissions: None
Facilities: Parking space, toilets. Hotel Kongebrogaarden with dining and accomodation opportunity.
Photo opportunities: Very good for macro and wide angle.
Diving Map
Kongebrogaarden
Kongebrogaarden is the place in Lillebælt, which has the shortest distance from the shore to 40 metres depth! You can choose to enter the water to the left of the harbour, at the west facing danger mark. From here you swim after rate 30 on the compass to end up at 40 metres and it is not uninteresting here. You can see many large rocks and often some cod and the sponges and seaweed species associated with life at greater depths. If you are looking for a dive with depth and variety in the form of large rocks and life on the seabed, Kongebrogaarden is the place for you.


The dive at Kongebrogaarden becomes deep quickly, like so many other places in Lillebælt. The seabed slopes slightly down with the mussel and common eelgrass meadows, which are gradually replaced by a sandy seabed, which then again turns into lush bladder wrack vegetation.
You will experience this scenario over an approximately 25-metres swim, until you reach a depth of 6 metres. There it is – the wall. A truly breath-taking wall. You float above it and you may enjoy its beauty for a long time.
After a float of 6-8 metres, you reach the seabed and it is now time to experience the wall and the marine life that unfolds on it.
You can experience a true stream of nudibranchs at the seabed and on the wall during winter, when they rise to shallow waters to breed and eat hydroids. Large colonies of sea squirts line the wall, as do pink oaten pipe hydroid and giant plumose anemones.
At the top of the wall long sugarkelp and laminaria hyperborea sway. Some places the wall have dropped large pieces, which can be seen scattered at the seabed.
Elsewhere there are large overhang, which helps to vary the appearance of the wall. If you swim eastwards the slope disappears. When you reach the eastern corner of the marina you either have to swim further over a submarine to be free of the hazard marking or swim the same way back as you came.
There are good toilet facilities, but keep in mind that you are not the only one using those facilities. Please show consideration towards hotel guests and sailors at the marina.