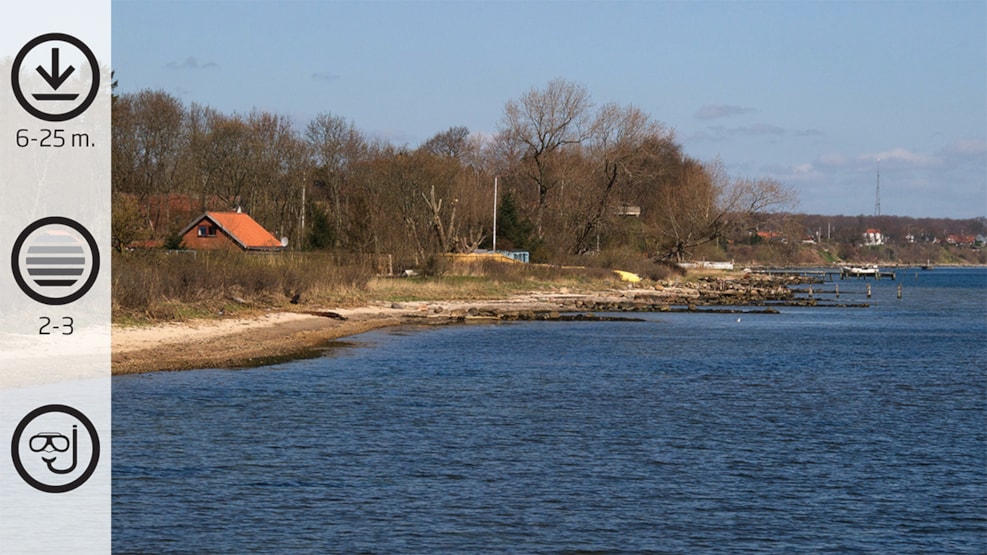 Lyngsbo Strand (no. 3)
Exciting slopes with caves. Possibility to view tadpole fish and yarells blenny. Common eelgrass belts with small fish. A lamp to experience the beautiful red seaweed species with breadcrumb sponge is ideal.
Facts:
How to find: Coming from E 20, choose Exit 59. Turn left at Snoghøj Landevej and after driving 500 metres turn left at Vesterballevej. Then left at Kystvejen, and 100 metres further along the road, turn right at Nyhavevej. Continue past Ammoniakhavnen. Then you reach a gravel road with a parking space on the left.
Geocoordinates:
Longitude: 9.7399859367
Latitude: 55.525940054
Google Earth Coordinates:
Latitude: 55°31'30.38"
Longtitude: 9°44'28.03"Ø
Getting in and up the water: You enter the water under the bridge or from a boat at the bridge pier.
Highlights: The slopes with caves with the many nudibranch in winter / suitable for snorkeling
Air filling station: You can get your airbottle refilled at Hindsgavl Camping in Middelfart (open all year round) during opening times: Hindsgavl Camping. Alternativelyask the local diving club in Middelfart, Tel.: +45 3311 1323 :Dykkerklubben Marsvinet
Best season: All year round
Dangerous areas: Be careful not to get too far in the belt, the tide can be strong, and mark visibly with A-flags. Sailing close to the shore occurs throughout the year.
Depth: 6- 25 metres.
Tide: Can be strong further out, but seldom strong close to the shore.
Level of difficulty (1-5): 2-3
Permissions: None
Facilities: Parking space
Photo opportunities: Good possibility for macro
Lyngsbo strand

A few metres beside the Ammonia harbour (Ammoniakhavnen), just a little eastward, we find Lyngsbo beach. It is actually the continuation of the dive spot "Ammoniakhavnen" but significantly different.
The dive begins by wading through shallow water and sandy seabed. From here the seabed slopes down to 6-8 metres depth. You swim predominantly over a sandy seabed with small rocks and seaweed. This is a good place to spot nudibranch, especially during winter time.

When you have crossed this part, you meet several slopes, some sites vary in height. These slopes can be seen from 6 to 15 metres depth. However, they are not more than a few metres high. If you follow the slope to the east, you come across several caves in the slope. These disappear frequently when the caves slide under harsh tides. You may be lucky to find larger caves where the rare black and velvety cod fish – the tadpole fish is hiding.
At the sandy seabed flounders are often buried, waiting for prey to pass. They prefer a little softer sandy seabed which can be found here. Also the hermit crab is often seen here during summer, walking around on the seabed with their shell at the back.
If you swim out further at approx. 20 metres depth, it is a good idea to bring a flashlight, because here is the light is fading and the colours disappear without light. At this depth you can find the beautiful red seaweed species with breadcrumb sponge growing on the rocks - a beautiful sight.
It is not recommended to swim out further. Firstly, there is not much to see at the seabed below the 20 metres and if forced into a free ascent hazardous situations could occur. Furthermore, the tide can be very strong here.
Remember that you must not enter the water between the 2 hazard markings, nor is it allowed to dive inside the harbour area. Keep an eye on fishing vessels, large and small, and always remember proper marking.