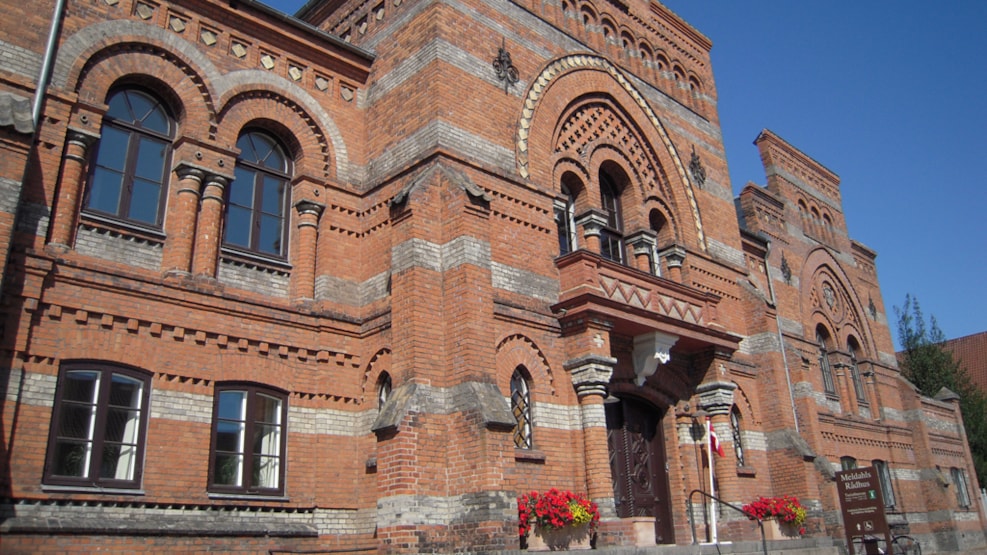 Meldahls Rådhus (former town hall)
The former Town Hall is named after architect Ferdinand Meldahl and was inaugurated on July 6th, 1860.  Meldahl is also the architect who designed the Marble Church in Copenhagen and "Tinghusene" the council buildings in Aalborg and Randers.

During the war of 1864 just a few years after the town hall was consecrated Fredericia suffered under Prussian bombardments. Fortunately, the beautiful new town hall survived the Prussian bombardments. Today, the building is a historic gem and a fine example of Danish architectural heritage. The building is from a period when Denmark drew inspiration from the rest of Europe. The impressive building represents the Northern Italian medieval and Byzantine styles and is considered as one of Meldahl's most important works.
In the square in front of the town hall were laid cast iron panels stating the laws and privileges that Frederik III offered people if they in turn were willing to settle in his new (but empty) fortified town. The King encouraged people to move to the town by offering freedom of religion, tax exemption, amnesty for criminals, free building plots, customs exemption and various other offerings.
Meldahl's Town Hall was Fredericia's fourth town hall. The first town hall was situated on the corner of Kongensgade and Oldenborggade. The second was on Prinsessegade opposite what is now the theatre. The third town hall was diagonally opposite to Meldahl's Town Hall. The fifth town hall is the current one and was built in 1965.
Fredericia's coat of arms with the motto "Pro pace armatus" ("Armed for peace') is a very precise expression of Fredericia's historic importance as a defensive installation. Because the town hall also functioned as a place of custody, it also meant that the mayor's office was located only about 4-6 metres from the ten prison cells!