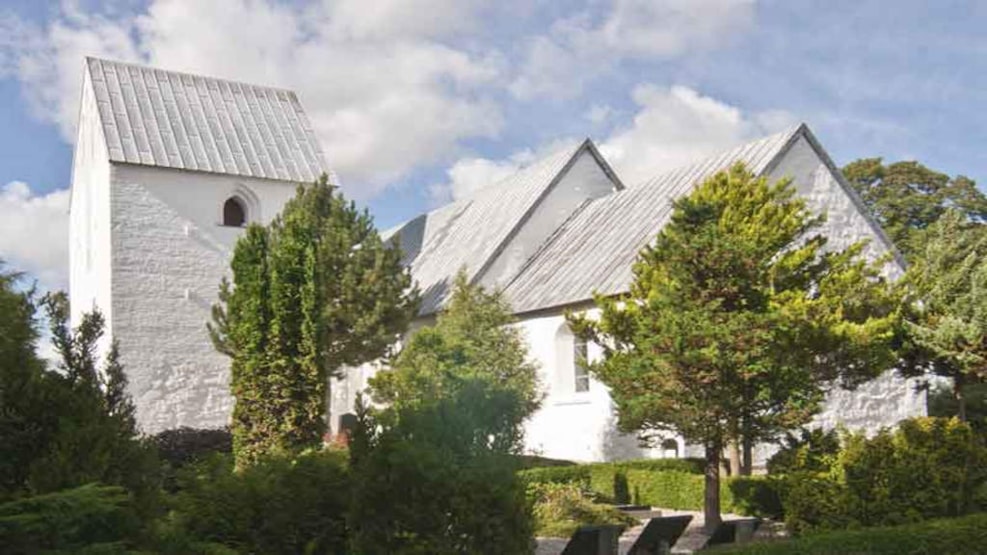 Pjedsted Church
Pjedsted church's chancel and nave are Romanesque.
During the late Gothic period the nave was extended westward, where a combined porch and tower were also built. Note the large medieval oak door to the porch with iron reinforcements. At the west end of the nave there is access to the powerfully built tower where a narrow winding staircase leads up to the two bells. The tower was restored during the period 1979 - 80. The church's original small Romanesque windows have been reopened. The large windows are of more recent date. The windows in the north wall of the nave are attractive glass mosaics from 1946 by J. Th. Skovgaard. The finely carved and painted altar from about 1600 is adorned with a very attractive late Gothic altarpiece from about 1500. The interplay between the church's simple appearence and the striking character of the altarpiece is unusual. Beneath the crucified Christ a skull may be seen. It represents the fact that Christ was crucified to atone for man's sins. The font is Romanesque and the pews are from the 1960's, when the church underwent radical restoration.
The highly attractive altar carpet dates from 1984 and was woven by the textile artist Kim Naver.
For entrance please contact the sexton during normal working hours.