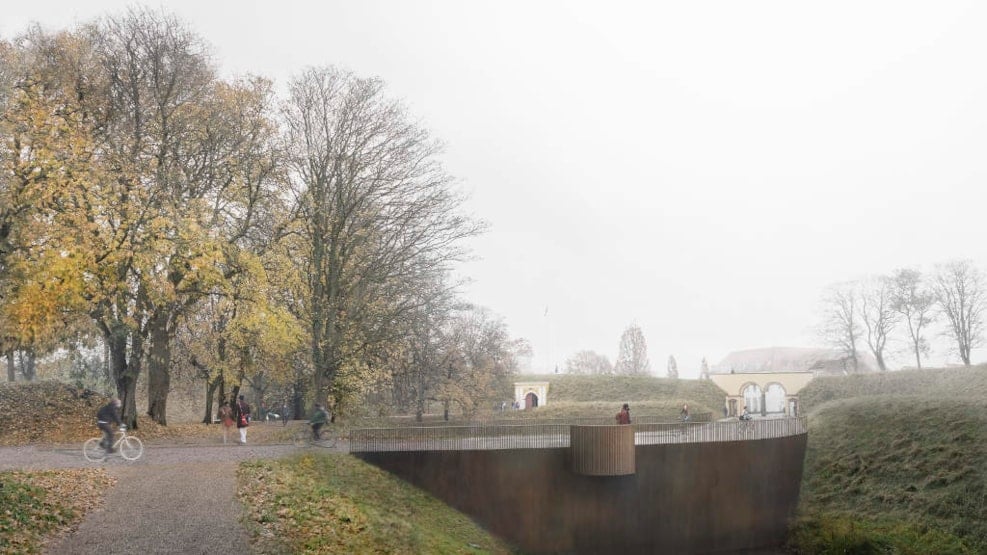 Renewal of The Ramparts of Fredericia
The historical Ramparts of Fredericia are facing a renewal which aims to revitalise the ramparts, emphasise the history and tie the area together.
In 2017 the architecture firm is Erik Brandt Dam Architects won the project. Fredericia Ramparts are protected as a historical monument and the work is therefore overseen by the Ministry of Culture's Agency for Culture and Palaces.
Today, there are six passageways through the ramparts, but only three actual gates. With the renewal, two new suspended walkways will be established across the passages that are currently without.  
The modern and sharp lines of the new walkways will create a clear contrast to The Ramparts. This accentuates the new additions and emphasise them as new. The plan furthermore seeks to clarify and outline the structure of The Ramparts. 
The new elements are to be made from the durable Corten steel, and the weathered maroon surface is essential to the suggested architectural expression. 
The project also entails plans for a promenade along the foot of the ramparts as well as improvements with lighting, signs, vegetation, benches and paths on the ramparts. 
The first stage of the project is expected to commence in 2020 and will be financed by a 35 million DKK donation from the A.P. Møller Fond.