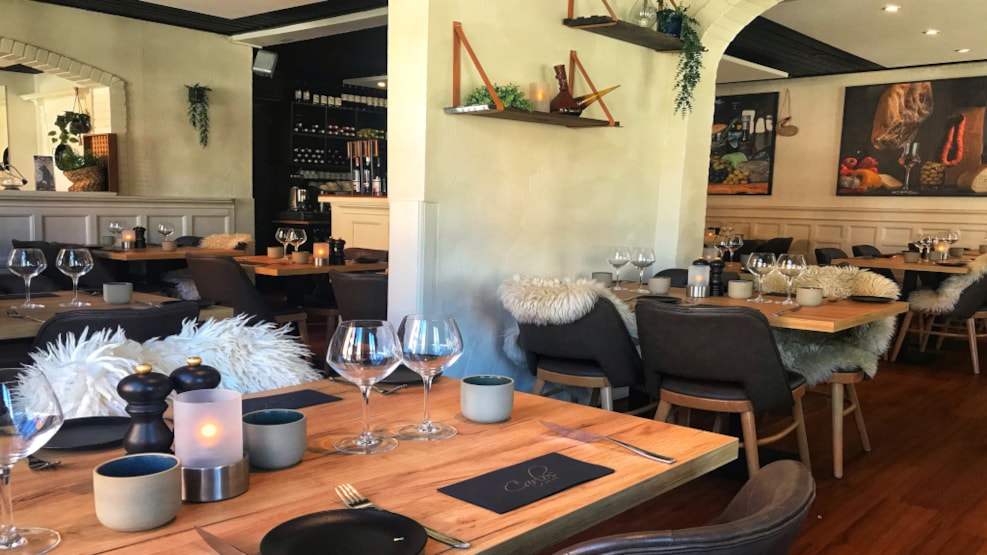 Restaurant Carlos
Restaurant Carlos offers exquisite Spanish flavours in a cosy setting.
Experience the cosy Restaurant Carlos
Restaurant Carlos in Fredericia serves fantastic food in stylish and cosy surroundings. The restaurant is located in the heart of Fredericia and opened in 2004. Since then it has cemented itself as one of the town's cosy places to meet. The restaurant serves food and drink inside the charming interior or on the cosy back patio under heated lamps.
Enjoy authentic Spanish cuisine
Restaurant Carlos serves Spanish cuisine and offers a selection of fine wines to match the restaurant's menu. The restaurant is particularly known for its tasty Spanish tapas and has a consistent focus on the authentic taste experience and unique quality ingredients.
Exquisite tapas – and much more!
At Restaurant Carlos you can enjoy brunch, lunch and dinner. Cold and hot drinks, milkshakes and wine and cocktails are served. Tapas is a staple of both the lunch and dinner menus, and the regular brunch is also based on the basic elements of Spanish tapas.
Restaurant Carlos offers a wide variety of tapas that vary according to the seasonal cuisine and which are put together in tapas menus to give guests a complete dining experience. You can also create your own personal tapas menu from the menu's street tapas. If tapas isn't your thing, Restaurant Carlos also serves great steaks and delicious pasta and rice dishes. Try the restaurant's classic Spanish paella.
Vegan, vegetarian or allergies? Restaurant Carlos always offers vegan or vegetarian tapas menus or a vegan alternative, as well as lactose and gluten-free menus. Ask your waiter for more information about the different options. You are also always welcome to contact Restaurant Carlos for more information.
Takeaway: For everyday or festive occasions
If you'd rather enjoy a slice of Spain at home, you can always order a takeaway from Restaurant Carlos.
Spanish specialities for your next party
On the restaurant's website you can read much more about the different catering options for parties or special events, and you are always welcome to contact the restaurant for further information.
Gift voucher and gift box for Restaurant Carlos
Delight a loved one with a gift voucher for Restaurant Carlos. The gift voucher can be purchased online or at the restaurant.
Restaurant Carlos accepts selected gastronomy boxes. See providers here!
See what others are sharing on Instagram