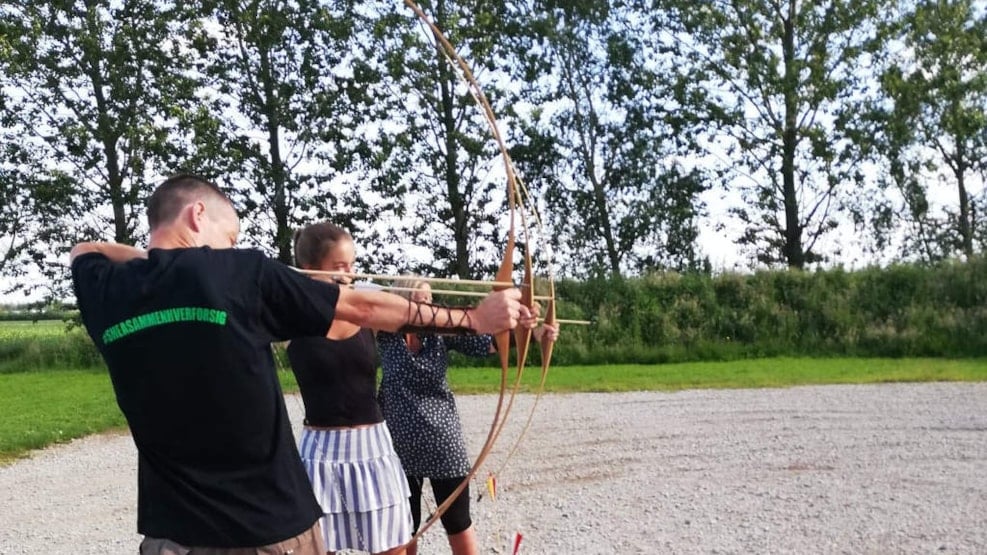 Robin Hoods Efterfølgere - Archery
Archery for companies, families and good friends – a fun experience with bow and arrow
Archery for companies and staff clubs 
Are you looking for a fun break during your company seminar or would you like to kick-start your company party by being active and setting yourselves a fun challenge? Then you should chose a joust with bow and arrow. Archery is easily learnt and whether you are CEO or working on the shop floor, you have the chance to be the top scorer of the day.
You can compete in teams or one on one. The event will be custom-made to fit your needs. If you have a suitable venue such as a lawn or warehouse, I will bring longbows, targets and 3D animals and give you a fun couple of hours.
Read more about all the possibilities at www.robinhoodseftf.dk or call me at +45 27 50 62 13 so we can organise the event together.
Archery for families and good friends
Give your family or friends a real summer challenge with bow and arrow. Archery is cool and a lot of fun – and can be enjoyed by the whole family from the age of 8 to 99 years – dad, mom, big kids, grandparents, cousins, uncles and aunts or good friends.
You do not need to be strong to shoot with bow and arrow. A strong eye for measurements and concentration often beat muscles in this game. You will of course receive a thorough introduction so you quickly become acquainted with the game. Afterwards you will be challenged to shoot at targets and 3D animals. We will count points and you can compete in teams or one on one.
Archery is a game best played outside so remember to dress after the weather. You are welcome to bring your own refreshments. The event will take place at a great little spot outside the city of Fredericia.
The address is: Lindberg Fenger Kursus- og Videncenter, Ryttergrøftvejen 48, 7000 Fredericia. You can book by calling me at +45 27 50 62 13 or you can send me a request on Facebook.