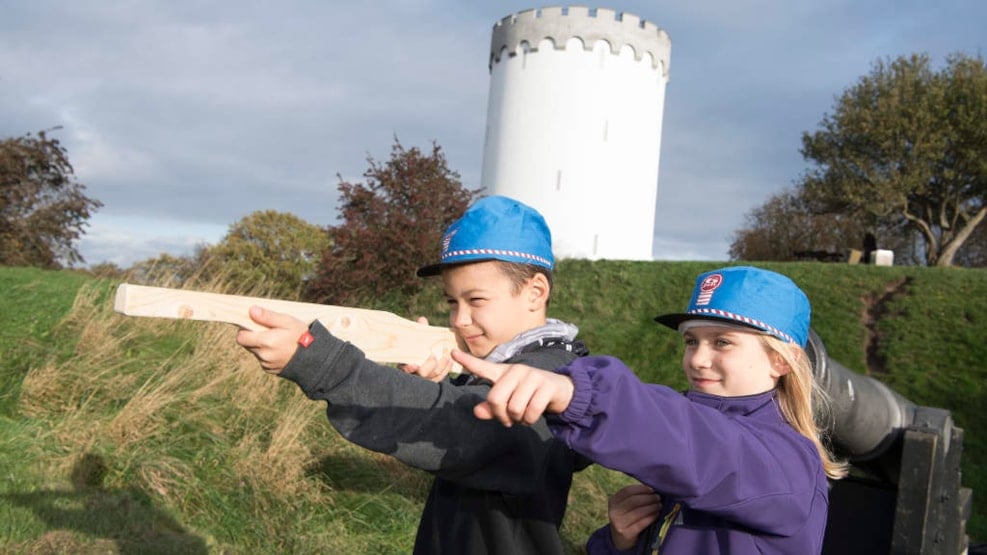 Brave Soldier on a Mission
General Rye needs help! Lace up your boots and get ready.
Brave Soldier on a Mission: Summer activity for the whole family
Fredericia is in need of new brave soldiers who can defend the fortress. Try the new activity Brave Soldier on a Mission and become a part of Fredericia's finest battalion!
Most enjoyable for children between 5-10 years old
The experience as a brave soldier is best suited for children between the ages of 5 and 10, but all brave soldiers need helpers, so there is guaranteed entertainment and exciting experiences for the whole family along the way!
Looking for activities for older children? Try our podwalk "Witnesses of the Ramparts" or our new scavenger hunt "Moses and Cathrine: Cursed Love."
Become a brave soldier and help Fredericia!
In Fredericia's special soldier mission, you will travel back in time to 1849, where you can experience life as a brave soldier in the old fortress city. You will be sent on a mission to Fredericia Ramparts, the old fortress ramparts that surround Fredericia, where you will help defeat the enemy.
Brave Soldier on a Mission: Purchase a soldier backpack and get started!
Price and retailers: Brave Soldier on a Mission costs 50 DKK and can be purchased from July 5th at Fredericia Visitor Centre and other selected outlets.
When you purchase the experience, you will be provided with a soldier backpack. Everything you need to solve the mission is included in the soldier backpack, and you may take it and its contents home once you have completed the mission.
Soldier backpack contents
To complete the mission, the brave soldier must have equipment. You will be given your very own soldier backpack, which consists of a haversack (that's what the soldiers' backpacks were called back then) with a wooden rifle, so you can defend yourself, a soldier's cap, so you are properly dressed, and a field ration, so you can gather strength and renew energy along the way.
Mission manual and parent guide
Along with the soldier backpack, you will also receive a description of your mission. The legendary General Rye is your superior, and if you follow his orders along the way, everything will go well! In Fredericia, all brave soldiers are rewarded with a beautiful gold medal when the mission is completed.
Parents will also receive a guide, so the whole family can solve the mission together. Skilled soldiers always have helpers available, ready to assist.
See what others are sharing on Instagram