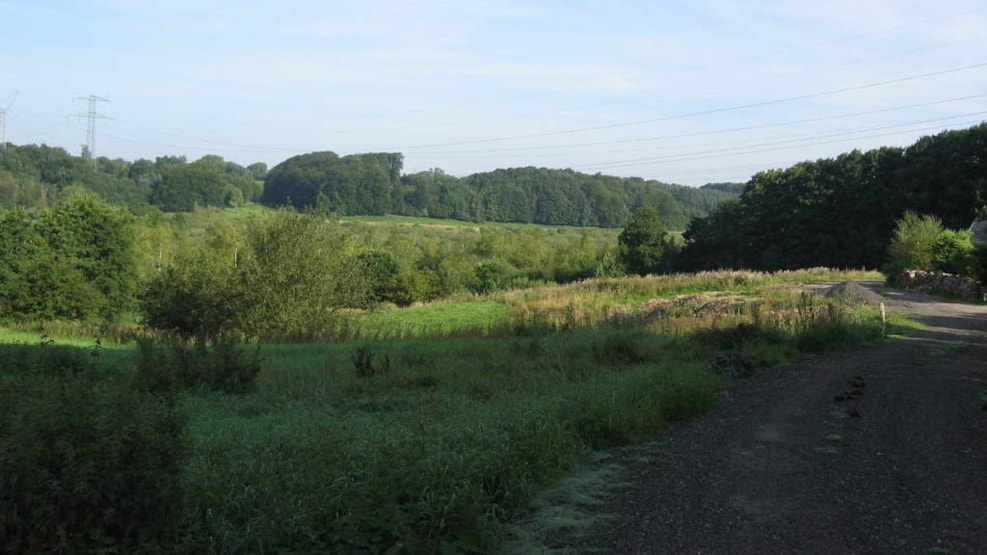 The Elbodal Route - 8 and 10 km hiking trails
The Elbodal Route is an 8 and 10 km long hiking trail that takes you through the beautiful natural area of Elbodalen Valley.
Beautiful Nature Experience on the Elbodal Route
The publicly established hiking route, the Elbodal Route, makes it easy to experience Elbodalen Valley, Fredericia's largest contiguous natural area!
Marked route with selected points
The Elbodal Route is outlined by Fredericia Municipality and marked with red triangles. You can follow the route by following the red triangles along the path, or you can follow the route map found in the Elbodal Route brochure in the blue box on the right or via this link (Danish only). In the brochure, you will also find information about the cultural landmarks and specially selected points that you will pass along the way.
8 or 10 kilometers? The choice is yours!
The full length of the Elbodal Route is 10 km, but it is possible to take a shortcut that shortens the route to 8 km. You can see the shortcut on the map in the Elbodal Route brochure. The route goes through hilly terrain and stretches over forest paths, gravel roads, and asphalted roads.
Parking at Elbodalen
There are several parking options at the Elbodal Route. You can use the parking lot at Kongsted Engvej 24, or you can park at Taulov Station. See an overview of the parking options in the Elbodal Route brochure. On the map in the brochure, you can also see the location of information boards along the route.
The Elbodalen Natural Area - Shaped by Ice Ages
Elbodalen stretches from the northernmost to the southernmost part of Fredericia Municipality and is a long tunnel valley shaped by the ice ages; some of the valley's slopes are up to 40 meters high. Elbodalen's landscape is hilly and has a very varied nature.
See otters, kingfishers, and rare orchids
Due to the diverse landscape with both wet and dry natural areas, Elbodalen has a rich bird and plant life.
When you visit the area, you can experience birds like kingfishers, marsh tits, and red kites, which use the area as a breeding ground. You may also be lucky enough to spot some of the otters that inhabit Elbodalen. The rare orchid, May Lady's Slipper, which is a sign of species-rich natural meadows, grows in several places in Elbodalen. The area also contains natural and cultural landmarks from ancient times.
At the bottom of the valley flows Spang Stream, which empties into Vejle Fjord.
See what others are sharing on Instagram