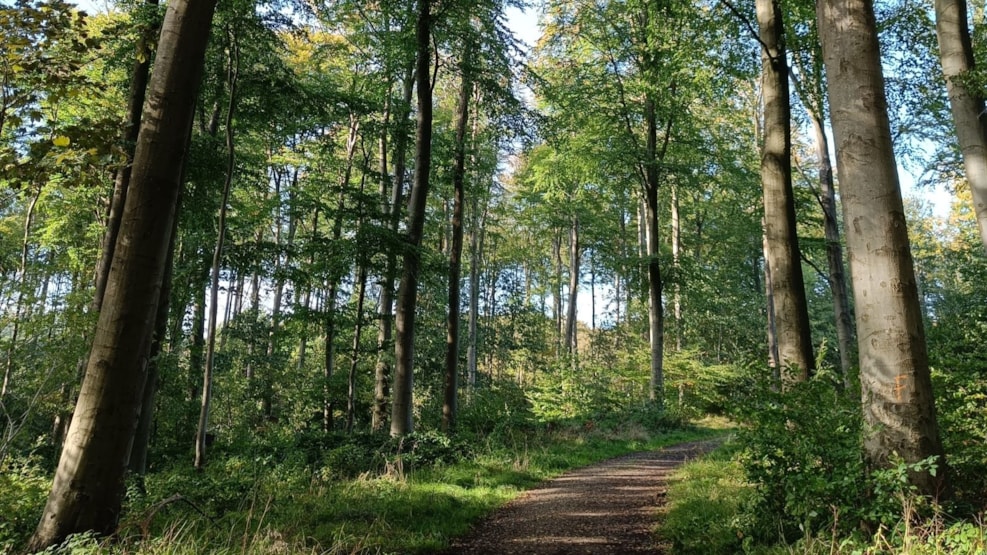 Hannerup Forest
Get up close to nature in Hannerup Forest and experience the area's rare botany.
Hannerup Forest - Natural Area Full of Activities
In Hannerup Forest, you'll never run out of experiences!
This large natural area is just a stone's throw from the center of Fredericia and offers plenty of opportunities to be active in nature. The area, together with Fuglsang Forest, forms a vast natural space, with a special focus on outdoor activities.
These two forests are separated by a railway line that runs through the area but is connected by several bridges.
Find a map of Hannerup Forest at the bottom of this page under "Download"!
Experiences for All Ages in the Heart of Nature
Hannerup Forest boasts an extensive network of trails and several marked MTB and running trails, a beautiful lake area with a romantic white bridge, as well as an area with rare trees.
At Hannerup Forest's parking lot, you'll find Hannerup soccer fields and petanque courts, and there is also a restroom building and tables and benches – perfect for your next forest outing!
Unique Forest with Rare Trees and Plants
Hannerup Forest distinguishes itself by having parts of the forest as a planted woodland. In the second half of the 19th century, the area was planted with the trees and plants that make up Hannerup Forest today.
A smaller area was even established as a forest botanical garden, which means that you can find hundreds of different and many rare tree and plant species here. The area is also home to wild orchids.
Fredericia's Oldest and Tallest Trees
Hannerup Forest is also home to the municipality's tallest and oldest trees. For example, you can see the city's tallest tree, a large Douglas fir, or the several-hundred-year-old oak, believed to be one of Fredericia's oldest trees. These trees are located in the western part of Hannerup Forest near Sorte Bro.
Be Active in Nature
Hannerup Forest offers a wealth of opportunities to be active! In particular, the area's 8 km long MTB biking trail is incredibly popular, but the area also has a marked 5 km running trail, which is also used for the very popular local running race, Hannerupløbet.
Furthermore, the danish association Hjerteforeningen also has two marked routes, called "heart paths," in the area!
Discover History in Hannerup Forest
Hannerup Forest not only offers beautiful natural experiences, but you can also get up close to several historical monuments and points of interest.
If you cross Hannerup Brovej on the opposite side of the sports fields, you'll find a memorial point with a stone column, marking the location of one of the German bastions from which Fredericia was besieged in the period leading up to the Battle of Fredericia in 1849.
Here you'll also find the so-called "Lion Fountain," from which a small spring flows through a bronze lion's head.
Facilities and Information
Restrooms: There is a restroom building at the parking lot on Hannerup Engvej.
Parking: There is parking available on Hannerup Engvej.
Marked Running Trail: Hannerup Forest has a 5 km running route, which also goes through Fuglsang Forest.
Marked MTB Biking Trail: Hannerup Forest has an 8 km marked MTB biking trail, which also goes through Fuglsang Forest.
Dogs: Dogs must be kept on a leash.
See what others are sharing on Instagram