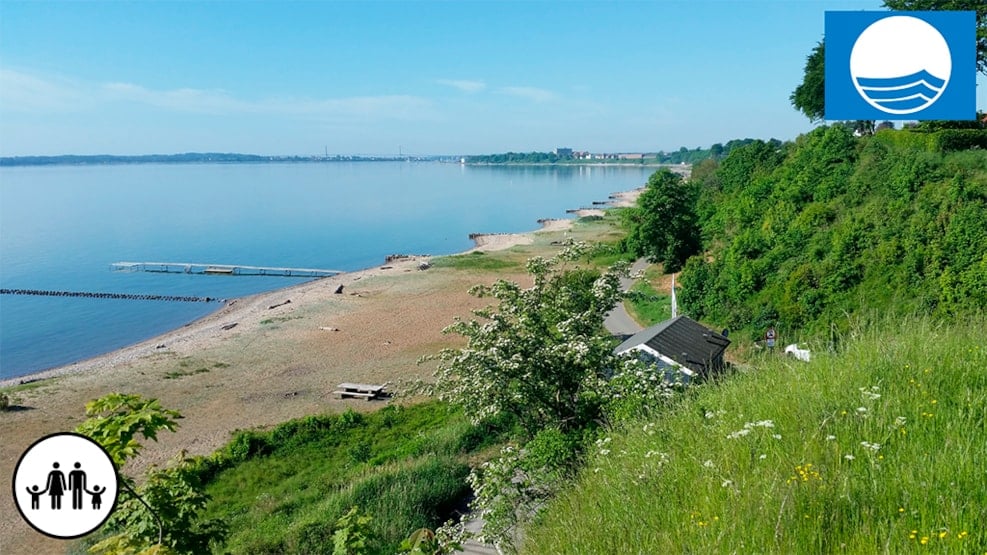 Hyby Beach
Hyby Beach is a quiet spot and a great place to swim for the whole family.
Hyby Beach: Beach in scenic surroundings
Hyby Beach is Fredericia town centre's cosy natural beach. The 1.4-km blue flag sandy beach is divided into many small coves, making it very family friendly. The beach area is sheltered by low scrub and reed beds and protected from the north and east winds by high slopes. Hyby Beach is also a good picnic beach with plenty of space to sit and enjoy your food in a quiet environment.
Bring your SUP board to Hyby Beach
The beach is also great for various water activities and is, for example, a selected SUP spot.
Read more about SUP at Hyby Beach here!
Facilities on and near Hyby Beach
The long stretch of beach has both sandy and pebbled areas. The many large rocks that line the beach provide excellent rock pools for crab fishing and for growing variations of edible seaweed.
Naturpark Lillebælt has produced several guides on edible seaweed along the Little Belt coast. Find the videos here!
The beach has lifeguards, life-saving and first-aid equipment, telephone coverage and instructions in case of accidents.
Hyby Beach by Lillebælts Allé
At the entrance to Hyby Strand at Lillebælts Allé, there is parking, a public disabled toilet and two long picnic tables. There is also a long pier with a small platform from which you can fish for crabs, as well as a fire pit, which you're free to use. During the summer period (July–August), the municipality provides free firewood for the campfire every Friday, but if you want to be absolutely sure you have enough firewood, it's always worth bringing your own.
Blue Flag and excellent water quality
Hyby Beach is a Blue Flag beach with the highest possible bathing water quality.
Read more about the Blue Flag scheme and find a list Danish Blue Flag beaches here!
Beach path to Østerstrand and Fredericia town centre
Flanking the 1.3-km-long Hyby Strand is a paved path for cyclists and pedestrians. The path is part of a 4-km-long beach hiking trail that runs from Hyby Fælled all the way to Østerstrand and on to the new district of Kanalbyen. The path along Hyby Beach also serves as a fire and rescue route.
Experiences in Fredericia
There's plenty to see and do in Fredericia for both young and old. Visit Fredericia's cosy pedestrian streets with their abundance of great restaurants and shops. Take the family to Madsby Activity Park, Denmark's largest play park, or explore the town's history at Fredericia Ramparts, one of Europe's oldest and best-preserved fortifications.
Find more information about Fredericia's many activities here or check out Fredericia's upcoming activities in the town's events and activities calendar.
See what others are sharing on Instagram