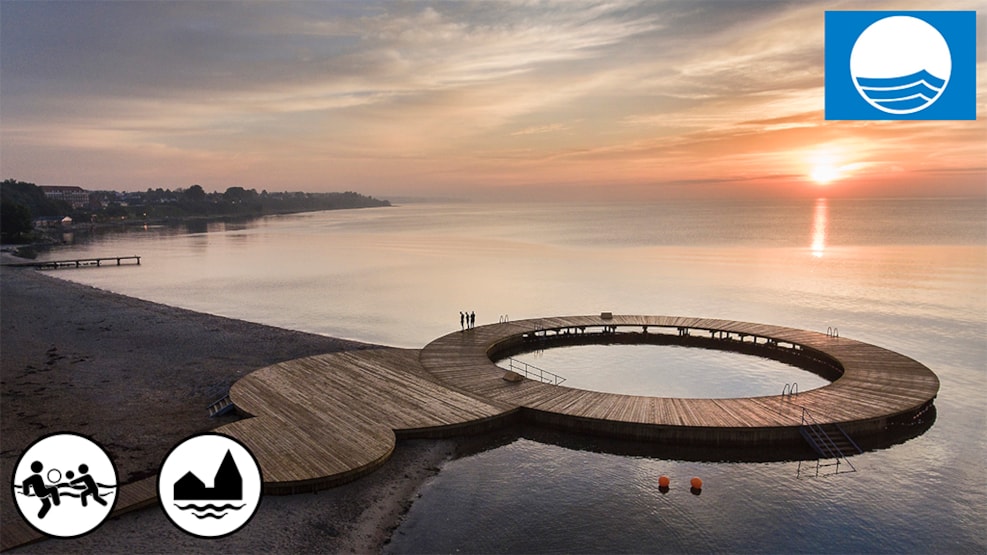 Østerstrand
Visit Blue Flag beach Østerstrand, which is located in Fredericia's city center - right at the foot of Fredericia Vold and a few minutes' walk from the pedestrian streets.
Look forward to a large wide sandy beach, jump in the Little Belt from the beautiful circular bridge or settle down in Urbania Beach Bar, where you can enjoy delicious food and drinks and feel the good vibrations and real summer atmosphere.
On the beach, you will also find a beach volleyball court and beach football. You are welcome to borrow beach equipment from the gearbox, which is located in the café.
In connection with the activity floor, it is possible, for instance, to practice yoga or gymnastics. There are three training pavilions and racks for training the whole body. The training machines have different functions, and as something very special, you can train in dry weather as they are covered.
On Østerstrand there are also "The Mermaid Flutes" which is a facility dedicated to bathers with visual impairments, or e.g. families with children who want a safe environment. The Mermaid Flutes consist of a series of poles in the water, where in between a rope is mounted, which leads the bath guest around the water and back to the beach.
During the summer holidays, you will find Trygfonden's lifeguards on the beach. You can ask them for advice and get more information. However, remember the responsibility is always your own, even when there are lifeguards on the beach! Your children are your responsibility.