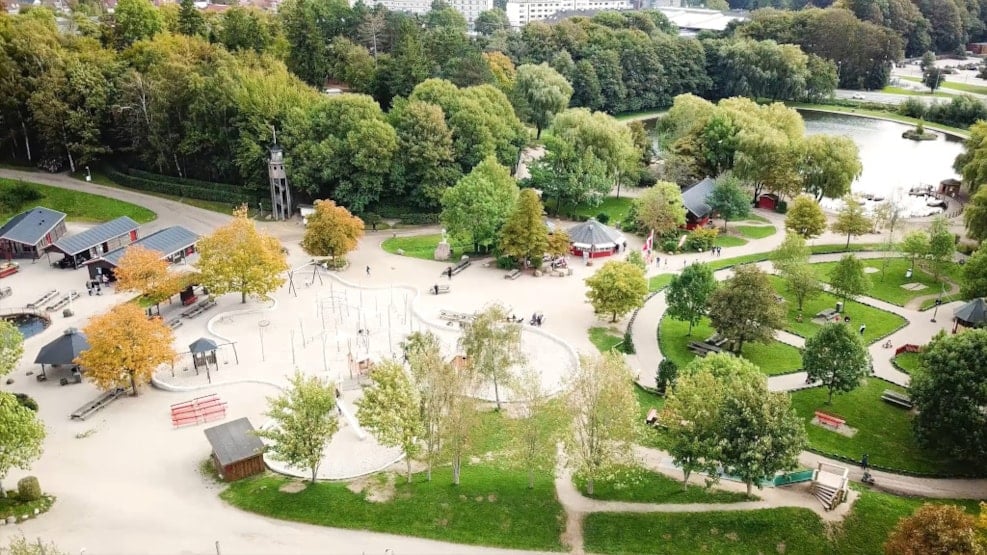 Madsby Activity Park
Take the family to Madsby Activity park in Fredericia - free admission throughout the year!
Madsby Activity Park - a Free, Outdoor Mecca for Activities in the Middle of Denmark!
Madsby Activity Park is a huge outdoor activity park in Fredericia full of experiences. The activity park is a real El Dorado for active children and adults, and there are plenty of activities here for a full-day trip!
Many Hours Await You!
With over 400.000 guests annually, Madsby Activity Parkis the area's biggest tourist attraction for families with children, and you can understand why! Whether you are going on a full-day trip or simply need a two-hour break from your busy life style, the activity park is the ideal choice. Here you get a central location, beautiful natural surroundings and endless play - because you can always discover something new in Madsby Activity Park!
Madsby Activity Park has been awarded a certificate for "Excellent Play" and has been categorized as "Denmark's Funniest Playground" by GoLittle.
What Can You Try in Madsby Activity Park?
In Madsby Activity Park you will find several different playgrounds and activity areas for different age groups. There is something for everyone here, and while the children play, the adults can relax in the small green oases of the activity park.
See the Many Different Activities on Madsby Activity Park's Key Map and Download the Map Here!
Playgrounds and Moon Cars
In Madsby Activity Park you can let loose on the large sandy playgrounds for children of all ages. There are swings, slides and climbing frames here. You can also visit the new Klods-Hans playground, where there are games for all the senses. The Klods-Hans playground is particularly suitable for smaller children and is disabled- and wheelchair-friendly.
If you like driving at a high speed, you can try out Madsby Activity Park'a moon car area. Find an available moon car and drive around on the small roads in a safe environment.
Tarzan Trail and Brand New Climbing Facility
There are climbing opportunities for both young and old in Madsby Activity Park!
The slightly older children can be challenged on Madsby Activity Park's very own Tarzan Trail. The Tarzan Trail is suitable for children over 10 years and adults. Here mum and dad can also find their inner child and try their hand at the challenging trail. Measure each others's time and see who gets through the fastest - good laughs are guaranteed along the way!
Also, try Madsby Activity Park's new attraction: A large climbing facility, which just opened in the spring of 2023. The climbing facility invites you to many hours of fun and lots of space for you to spread out - the facility is 23 by 23 meters and has room for up to 225 children at the same time. 
Mini Petting Zoo
In Madsby Activity Park you will also find an area with a mini petting zoo, where you can meet the animals up-close. Here you can experience, among other things, Swedish minipigs, goats, rabbits, many different birds, hens, guinea pigs and turtles. It is possible to touch and pat some of the animals.
Read More about Madsby Activity Park's Various Animals Here!
It is not allowed to feed the animals in the park!
Crazy Golf and Rowing Boats
In Madsby Activity Park you can also try your hand at activities for the whole family. See who is the most successful on the 18-holes crazy golf course of the activity park or row on the large lake of Madsby Activity Park in one of the rowing boats. There can be 2 adults and 2 children or 3 adults in each boat.
Information and Ticket Prices
Both crazy golf and the boats require a ticket. Tickets are bought at the ticket office, which is located in the middle of the activity park. Crazy golf costs 50 DKK per adult and child, and for children under the age of 3 the activity is free. Clubs and balls are available in the ticket office. A rowing trip costs 50 DKK per boat.
In the ticket office you will also find life jackets for adults and children. Life jackets are not required but recommended. The lake of the activity park is an artificial lake with a depth of 90 cm.
On a Trip with the Madsby Train
The Madsby Train is the Madsby Park's very own small train. The train runs from Madsby Activity Park and through the rest of the Madsby Park. Along the way you can get off the train at the historical miniature model village Fredericia Historical Miniature Town, which is also part of the Madsby Park. In the historical miniature model village you can experience a miniature version of Fredericia in 1849 on  a scale of 1:10.
Read More about Fredericia Historical Miniature Town Here!
Information and Ticket Prices
A ticket for the train costs 35 DKK for adults and 25 DKK for children aged 4 to 11. For children under the age of 3, the activity is free. If you buy a ticket for The Madsby Train, the entrance to Fredericia Historical Miniature Town is included in the price. 
The train runs from 11 until 17 o'clock. There may be days when the train does not run. Stay informed via the information boards in Madsby Activity Park or via the Facebook page of the activity park!
Practical Information about Madsby Activity Park
Free admission: There is always free entry to Madsby Activity Park. Some activities such as crazy golf, sailing boats and trips with the Madsby Train require a ticket, which can be bought in the activity park at prices between 20 and 60 DKK.
Seasonal activities: Madsby Activity Park is open throughout the year, but activities that require a ticket are open during the season of the activity park, which runs from the beginning of April until week 42.
Parking: There is parking at Madsby Activity Park. Parking costs 12 DKK per hour between 9 and 17 o'clock - every day.
Public transport: Madsby Activity Park is located 100 meters from Fredericia Station, so you can easily use public transport if you want to visit the activity park. 
Toilet and changing table: There are toilet facilities with changing table in the park area. 
Disabled-friendly: Madsby Activity Park is disabled-friendly with disabled toilets, flagged paths on the park's hills and room for non-electric wheelchairs on the Madsby Train.
Dog: You may bring your dog to the activity park. Dogs should be kept on a leash, and they are not allowed in the sandpits of Madsby Activity Park.
Buy Food and Drink at the Madsby Kiosk or Bring Your Own Picnic Basket
Even heroes need food and drink! If you get hungry during your visit to the activity park, you can visit the Madsby Kiosk. The Madsby Kiosk sells a wide selection of fast food, sandwiches, cold and hot drinks and various snacks. The Madsby Kiosk also has an ice-cream department where you can buy delicious ice from Hansens Icecream. On busy summer days an extra ice-cream stall opens at the Klods-Hans playground.
You can also choose to bring your own picnic basket when you visit Madsby Activity Park. Your own food and drink may be enjoyed all over the park. In the park and at the various activities there are seating areas and sets of tables and benches, which you can use. In the park there is also a lunch pack house, where you can sit down and enjoy your own food or what you have bought during your visit.
Help us keep Madsby Activity Park clean and tidy - please use the bins provided or take your rubbish with you.
Hold a Birthday or Family Party in Madsby Activity Park
In Madsby Activity Parkyou can easily hold your next event. The park has 4 lunch pack houses of different sizes, of which 3 of the houses can be rented for private events.
It is also possible to rent a barbecue if you want to hold an event with food. A barbecue can have a capacity of 20 to 25 adults per hour. The price is 105 DKK per hour per barbecue, and a barbecue can be rented for a maximum of 2 hours.
It is not allowed to bring your own barbecue into the park!
Madsby Activity Park- a Part of the Madsby Park
Madsby Legepark is part of the Madsby Park, which also consists of Fredericia Historical Miniature Town and Fredericia Sports Centre and Fredericia Swimcentre and Aqualand. 
See What Others Are Sharing on Instagram