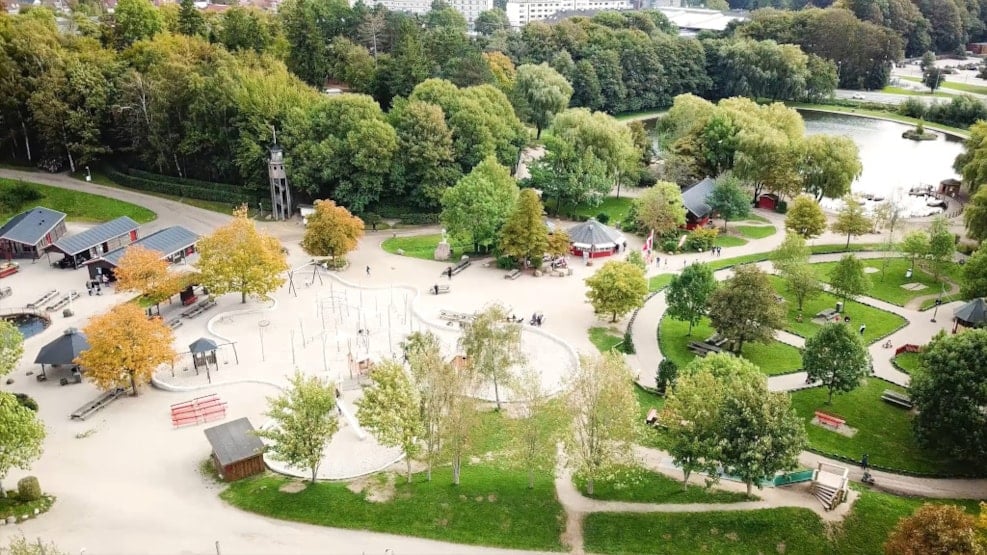 Madsby Activity Park
Madsby Activity Park offers family friendly fun with free entrance all year round. 
Madsby Activity Park is a wonderland for active children and their grown-ups. Here is more than enough fun and games for a whole day.
Go playing at the big sandbox playground for children of all ages, visit the Clumsy Hans themed playground which is handicap accessible, cruise along on the Mooncar-track or unleash your inner Tarzan at the Jungle Trail in the woods. 
Don't forget to stop by the mini-zoo and say hi to the sheep, goats, pigs, chickens, rabbits and birds. 
Most things in the park are free - except for a few pay-as-you-go seasonal activities: from between 15-50 DKK per person you can play minigolf, go for a ride on the Madsby Train, rent a rowboat and go sailing on the pond.
In the Madsby Kiosk you can buy food, drinks, ice cream og candy. 
You are welcome to bring your own food and drinks to the park. Enjoy your lunch in one of the lunch houses or outdoors at the tables by the flower garden or in the communal barbecuing area.  
It is also possible to book a lunch house for a family gathering or children's birthday party. See more and book on the park's own website. 
With more than 400.000 annual visitors, the park is the largest family attraction in the area. 
Madsby Activity Park has been granted the "Excellent Play" certificate and has been named "Denmark's Best Playground" by GoLittle. 
Madsby Activity Park is part of the Madsby Park area, which is also home the Historical Miniature Town and Fredericia Sports Centre and Aqua Land. The Madsby Train services the whole park area. It is possible to buy a combined ticket to the Madsby Train and the Historical Miniature Town. 
PRACTICAL INFORMATION
Parking is available at 12 DKK per hour every day between 9 a.m.-5 p.m.

The Madsby Park is located only 100 m Fredericia Train Station
The park is equipped with handicap facilities such as handicap restrooms, paved paths on hills and room for non-electrical wheelchairs on the Madsby Train.