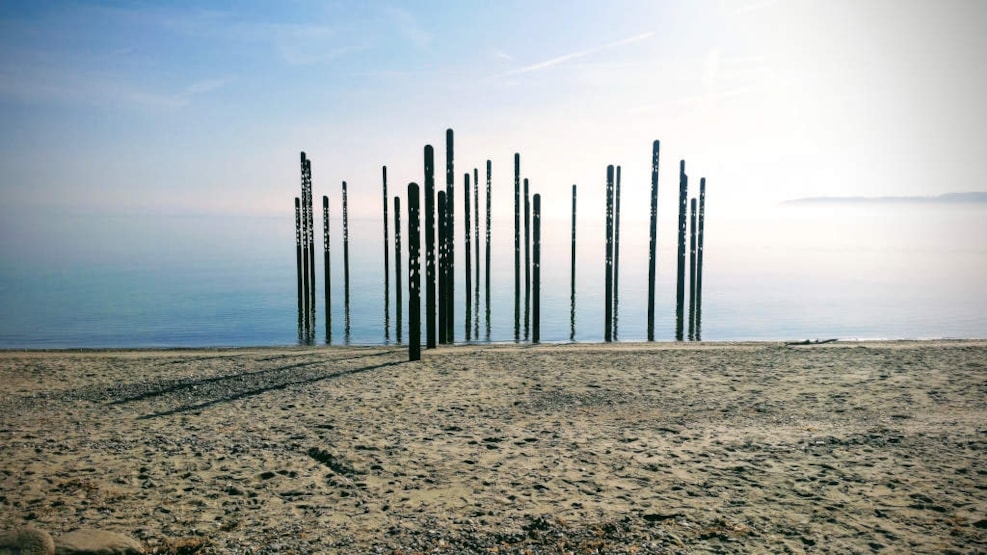 The Mermaid Flutes at Østerstrand
The Mermaid Flutes bathing facility on Østerstrand offers a safe bathing experience.
A safe bathing experience
On Østerstrand you will find the Mermaid Flutes, the world's first bathing facility for the visually impaired.
The facility was created in cooperation between Fredericia Municipality and the Danish Blind Society and was originally intended for the visually impaired and blind. However, the facility can be used by anyone who wants a particularly safe place to swim.
The facility's design
The Mermaid Flutes comprise a series of long steel poles that form a snail pattern above and below the water. Between each steel post, a rope is fitted to guide the bather safely around the water and back to the beach.
The Mermaid Flutes serve as an orientation tool in the water and allow you to swim and experience the sea on an equal footing with other bathers.
Information for bathers
Please note that the facility is not equipped for bathing alone. Visually impaired and other users must be supervised while bathing. The Mermaid Flutes are not wheelchair accessible, but there is good wheelchair access to other beach facilities.
Remember that your safety is always your responsibility – even when there are lifeguards on the beach! Read the Danish foundation Trygfonden's guide to safe bathing here!
Location reduces noise
The bathing facility is located a short distance from the circular bridge at the southern end of Østerstrand, where a seating area has been created. The slightly remote location on the beach is at the Danish Blind Association's own request and helps to avoid noise from other bathers.
This allows the users of the Mermaid Flutes to orientate themselves and achieve an increased intimacy with the sea without too much noise and disturbance.
A work of art with a purpose
The Mermaid Flutes are inspired by the "land art" form of art, where art is created by and becomes an integral part of its natural surroundings. As well as being a bathing facility, the Mermaid Flutes are therefore also a beautiful art installation that stands in the water all year round as an integral part of the beach.
Visit Østerstrand and the Mermaid Flutes and see how the landscape changes with the seasons and the effects of the elements. Because the steel poles of the Mermaid Flutes are equipped with LED lights at the top, the installation can also be seen in the dark, when the snail shape is clearly visible.
How the Mermaid Flutes got their name
Originally called the Bathing Snail, after its snail pattern, the facility was given a more imaginative name after a group of pre-school children visited the facility and noticed that the poles looked like mermaids' wings.
The people behind the project thought this was such a wonderful image that they changed the name to the Mermaid Flutes.
See what others are sharing on Instagram