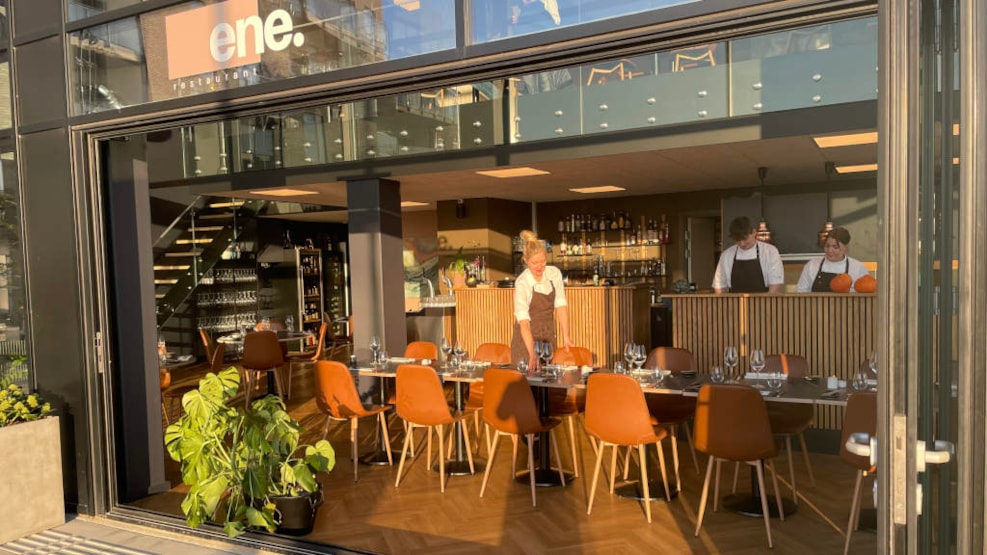 Restaurant ene.
Enjoy sublime flavours, a cosy atmosphere and top-quality food at Restaurant ene.
Exquisite dining experience at Restaurant ene.
Restaurant ene. is a welcoming restaurant located in the heart of Fredericia in the new Kanalbyen district, and here taste, quality and presence are the main ingredients. The restaurant serves simple Scandinavian and Nordic food with an Eastern and Asian twist for a more complete taste experience.
Restaurant with cosy atmosphere
At Restaurant ene. you will be greeted by friendly staff who have a great knowledge of the ingredients served and who always create just the right ambiance around the table. That's why the restaurant was awarded "Best Restaurant 2021" in the local "Byens Bedste" awards, where local businesses and citizens nominate and award Fredericia's local gems.
Read more about the vision behind Restaurant ene. and see the menu here!
Local produce and exciting menu
Another of the restaurant's cornerstones is the selection of local, high-quality Danish ingredients and a focus on great taste. Restaurant ene. therefore has a menu that changes according to seasonal ingredients.
The evening menu consists of a three or five-course meal with a selection of wine menus carefully adapted to the season's produce. Restaurant ene. also offers their all-evening experience, where you get to just sit back and enjoy great food, wine and company.
For lunch, Restaurant ene. serves Nordic-style open sandwiches and a typical Nordic shooting star, and a choice of sweet treats.
Vegetarian or allergies: Restaurant ene. always offers a vegetarian five-course menu and vegetarian open sandwiches. In case of allergies or other special considerations, please inform the restaurant the day before your booking.
Part of Kanalbyen
Restaurant ene. is part of the exciting environment in Fredericia's new Kanalbyen district, which is undergoing rapid development. The restaurant offers a beautiful view of the nearby canal and the urban harbour environment.
Read more about Kanalbyen, Fredericia's new district, here!
Discover Fredericia
Parking: Fredericia has plenty of places to park.
Find more information about parking in Fredericia here!
See what others are sharing on Instagram