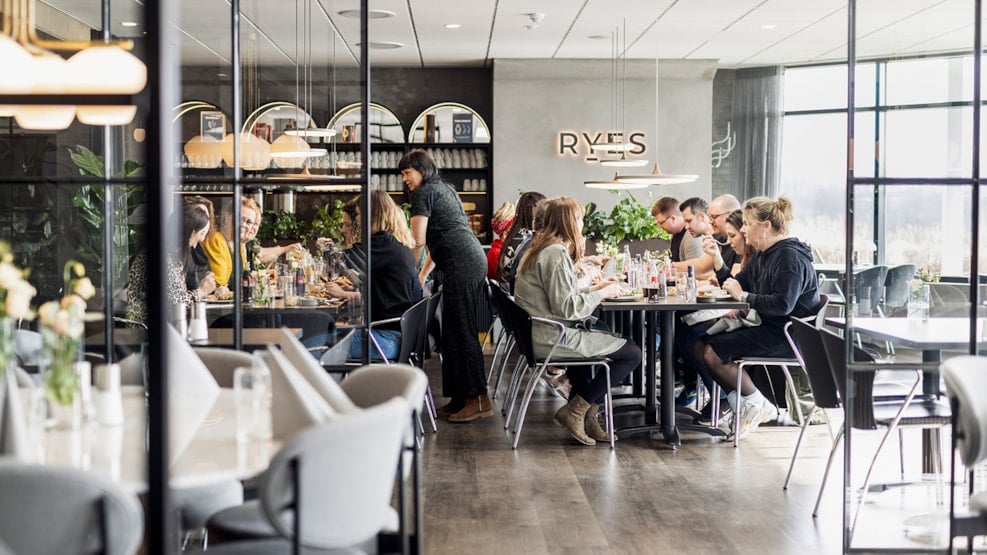 Restaurant RYES at Hotel Fredericia
Restaurant RYES offers tasty dining experiences in exquisite surroundings at Hotel Fredericia.
Hotel Fredericia's latest restaurant
Restaurant RYES is Hotel Fredericia's newly renovated and welcoming restaurant with seating for 180 guests. The restaurant opened in 2021 and is an integral part of Hotel Fredericia, but with its own gastronomic identity.
Restaurant RYES is decorated in a classic international New York style, while the name is inspired by the local area and borrowed from war hero and Major General Olaf Rye, who led the Battle of Fredericia and liberated the fortress town in 1849.
From Restaurant RYES, guests have a fantastic view of the lakes and meadows of the nature and activity park Madsbyparken.
Gastronomy at Restaurant RYES
Restaurant RYES is all about modern Nordic cuisine The restaurant uses seasonal ingredients to make interesting and tasty flavour combinations. The result is exquisite, high-quality culinary experiences served by the restaurant's skilled team of waiters.
Restaurant with a la carte menu
Restaurant RYES offers a varied selection of a la carte menus, lunch dishes, aperitifs and snacks as well as a wine list.
You can check out the restaurant's menu on Hotel Fredericia's website.
Parties and events
Plan your next party or event in the restaurant or in one of the hotel's rooms. Find inspiration in the restaurant's corporate brochure and all-inclusive packages or put together your party in consultation with the restaurant's experienced staff. Remember that it is always possible to include accommodation for your guests at Hotel Fredericia.
Several times a year, Restaurant RYES organises events and special dinners. Come for an exclusive port tasting or hold your next Christmas party or New Year's Eve dinner at Restaurant RYES and enjoy a great evening with fantastic food, with or without accommodation.
See Restaurant RYES' scheduled events here!
See what others are sharing on Instagram