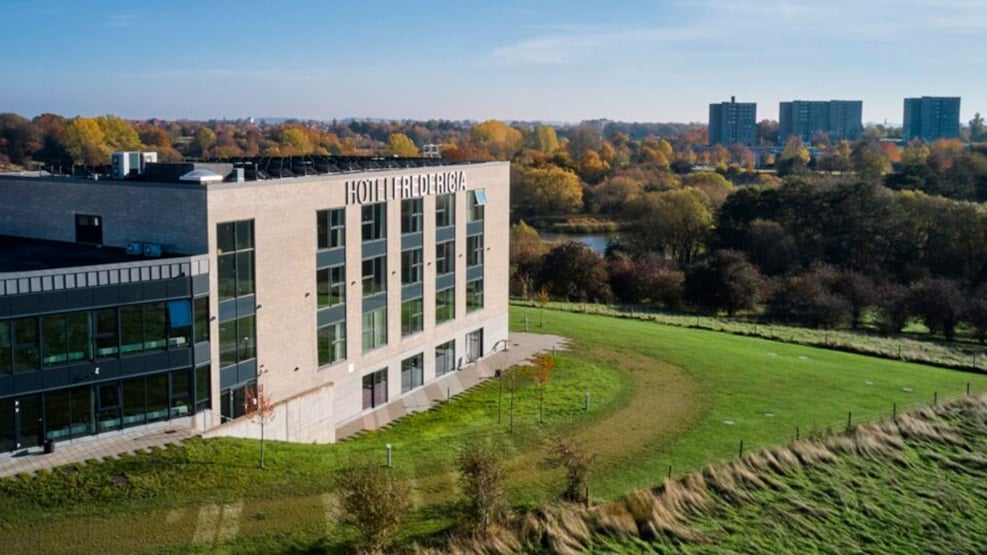 Green Experience
Best Western PLUS Hotel Fredericia
The guest is at the centre and quality is paramount at the four-star Hotel Fredericia.
Four-star accommodation at Hotel Fredericia
Book your next accommodation, stay or conference at Hotel Fredericia and stay centrally in the heart of Denmark. The hotel is a Best Western PLUS hotel and is located in scenic surroundings, just a short distance from the motorway network and Fredericia Railway Station. Hotel Fredericia has 118 newly renovated, large and bright rooms, all with free Wi-Fi, 24-hour reception, meeting and conference facilities and parking right outside the door.
Free swimming pool, water park and gym: Fredericia Sports Centre is right next door to Hotel Fredericia, and guests staying at the hotel can use Fredericia Swim Centre and Aqualand and the FICNESS-gym free of charge.
Hotel Fredericia is a Tripadvisor Travellers' Choice 2022 recipient.
Close to nature, culture and sport
Hotel Fredericia offers a beautiful view of the green areas around Madsby Nature and Activity Park and is within a short distance of Fredericia's many attractions.
Next door to Hotel Fredericia is Fredericia Sports Centre and Messe C, Southern Denmark's largest exhibition centre. The Historic Miniature Town and Madsby Activity Park, Denmark's largest play park with free admission, and Fredericia Golf Club are all within a short walking distance. The club has a wonderful and challenging 18-hole course in slightly hilly terrain, with beautiful views of Fredericia town.
Experiences in Fredericia
Fredericia is home to a wealth of exciting attractions!
Explore Nature Park Lillebælt, Denmark's largest nature park, or discover the beautiful and unique nature area of Trelde Næs. You can also get up close to history at Fredericia Ramparts or book one of the many guided tours of Fredericia's streets, go to a concert at the Tøjhuset venue or experience world-class musicals at Fredericia Musical Theatre. The options are endless!
Read more about Fredericia's many attractions and see what's on in the town on VisitFredericia's website.
Hotel Fredericia is also just a 10-minute drive from the Old Little Belt Bridge, where you can go bridgewalking with Bridgewalking Lillebælt, the only place in Europe to do this activity. Read more about bridgewalking here!
Hotel Fredericia for conferences or seminars
Plan and organise your next conference, meeting or seminar at Hotel Fredericia. The hotel has professional conference and meeting facilities with the option to hold hybrid meetings. Accommodation and meals are available to participants and help make the conference a seamless experience.
Contact Hotel Fredericia for more information.
Hotel Fredericia's different stays
Whether you are planning a stay with your family or partner, Hotel Fredericia has a stay to suit you. How about an exclusive port tasting with a 6-course menu and overnight stay? Book a Michelin stay and dine at Fredericia's Michelin restaurant Ti Trin Ned, or try one of the popular golf stays with Try3Golf, where you get access to one or more of Trekantområdet's fantastic golf courses. See Hotel Fredericia's different stays here!
Restaurant RYES
Restaurant RYES is Hotel Fredericia's own restaurant, guaranteeing you an exquisite culinary experience. Restaurant RYES serves high-quality classic cuisine with a Nordic twist.
Free parking
Hotel Fredericia offers free parking – simply register your vehicle at reception. Please note that the parking registration is valid for 48 hours.
Public transport: Hotel Fredericia is just a 15-minute walk from Fredericia Railway Station, where you'll find bus and train connections.
Read more about Hotel Fredericia's facilities and offers here!
See what others are sharing on Instagram