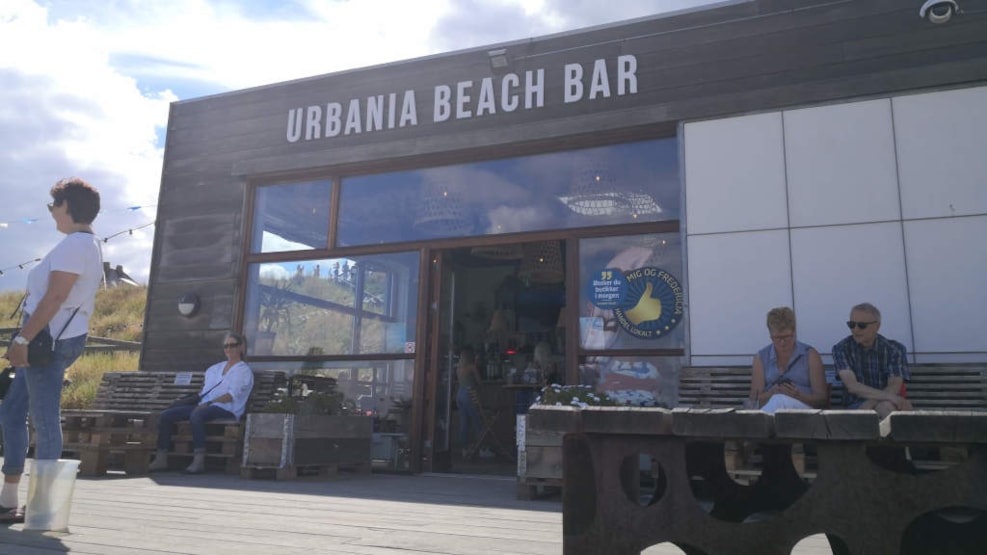 Urbania Beach Bar
Get into the summer vibe at Urbania Beach Bar, Østerstrand's cosy beach café.
Østerstrand beach café
If you visit Fredericia's best beach Østerstrand, you should stop by the cosy Urbania Beach Bar. The beach café is centrally located on Østerstrand, just a few metres from the beachfront, next to the large circular bridge.
Opening hours: The beach café does not have fixed opening hours, but is open according to weather conditions – you can always check if the café is open right now on the Urbania Beach Bar website.
Urbania Beach Bar serves a varied selection of food, snacks and ice creams as well as hot and cold drinks; try the café's delicious drinks and refreshing lemonade, or satisfy your ice cream cravings at the café's small ice cream parlour.
You can bring your own food and drinks or settle down in Urbania Beach Bar's beautiful lounge area and enjoy the wonderful views of Little Belt, the beach and the water's edge.
Activities and equipment at Urbania Beach Bar
Østerstrand has a large activity area with opportunities for physical exercise and hours of fun. Urbania Beach Bar has a kit box containing various accessories and equipment, which you are welcome to borrow. Just remember to put the equipment away after use so others can enjoy it too. Ask the café staff for more information.
Disability friendly: Urbania Beach Bar is wheelchair accessible. Østerstrand is a disability-friendly beach and offers the option to borrow a WaterWheel wheelchair. The key for the beach wheelchair is collected directly from Urbania Beach Bar. Ask the café staff for more information.
Parking
There are several parking options near Østerstand and Urbania Beach Bar. There is a small area on the beach where you can park for a fee. Disabled parking is also available here.
Free parking is available along Østervoldgade, a minute's walk from the beach area. Parking is not permitted on the grassy areas of the Fredericia Ramparts.
See parking options in Fredericia here!
See what others are sharing on Instagram
#urbaniabeachbar #østerstrand #østerstrandfredericia #visitfredericia