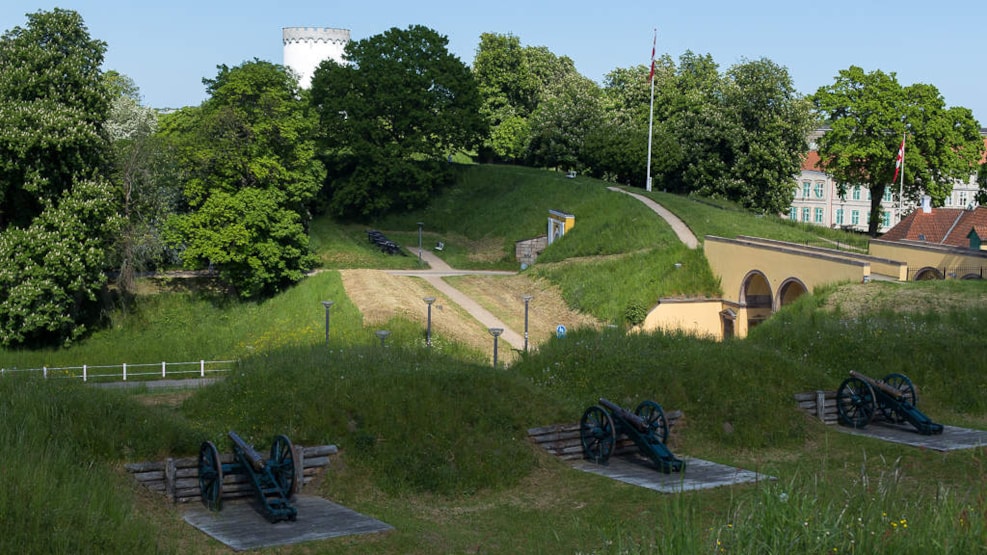 Audio walks on Fredericia Ramparts
Experience the story of Fredericia Ramparts through exciting audio walks.
Listen for free!
At Fredericia Ramparts, immerse yourself in history with one of the many audio walks. For example, listen to fascinating personal accounts from those who were in the war, or learn more about the exciting history of the great fortress with the Ramparts' audio guide. See the different free offers below:
Audio guide: Fredericia Ramparts
The Fredericia Ramparts audio guide tells you the entire history of the Ramparts and fortress. The audio guide has a total of 10 sections, one for each of the 10 bastions. Each section lasts 2–4 minutes and tells you about the bastion you have reached on your tour of the Ramparts.
You can find the audio guide in the Useeum app under "Visit Fredericia". Here you will find both audio files and maps of the Ramparts' bastions.
Download the app for iPhone via App Store or for Android via Google Play!
The audio guide is also available in English!
Podwalk: Ramparts' Witnesses
For an alternative walking experience, where you explore the Ramparts with the aid of audio stories, try the audio/podwalk Voldens Vidner. On this audio walk, you not only get to experience the Ramparts' surroundings, you also get to listen to dramatic stories based on real-life accounts of the 1849 Fredericia War from each of the Ramparts' bastions.
Voldens Vidner contains a total of 10 short stories and is available in both Danish and English.
Read more about the podwalk and the download instructions here!
The Poet's Route: Carit Etlar
If you're more into art, culture and literature, take the Poet's Route and experience Fredericia Ramparts through Carit Etlar's stories. The route is 6.1 km long and is experienced through 9 audio files that you listen to along the way.
Read more about the Poetry Route and see a map of the route and audio files here!
Podcast series: Fredericia Town and Fortress
If you want to hear about Fredericia's exciting history on that walk, you can also listen to Fredericia Museum's podcast series Fredericia Town and Fortress, which talks about Fredericia's exciting history through 12 episodes.
See what others are sharing on Instagram