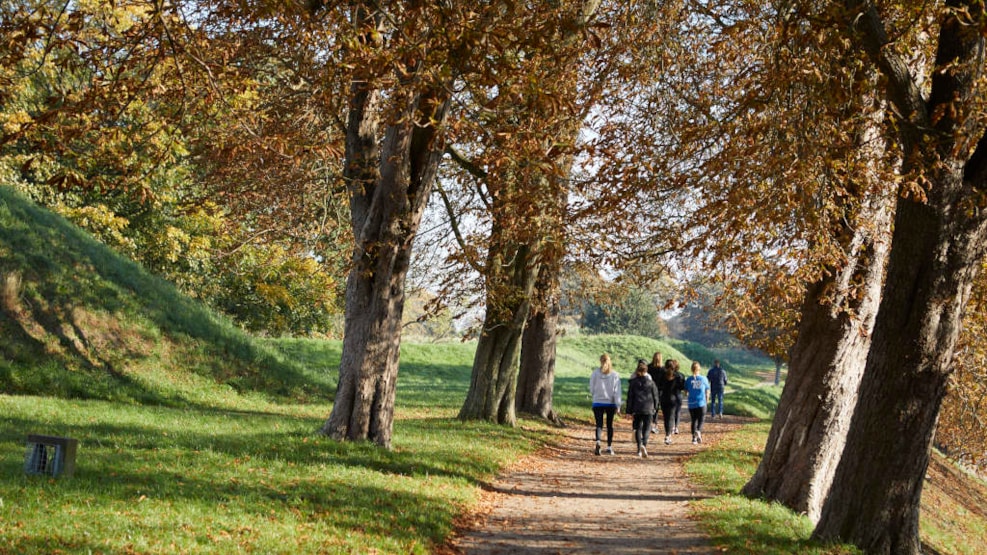 Hiking routes on Fredericia Ramparts
See an overview of the many hiking trails on Fredericia Ramparts.
Fredericia Ramparts: Perfect for your next hike!
Take a hike on Fredericia Ramparts and combine nature, exercise and history in one! Fredericia Ramparts are one of Europe's oldest and best preserved fortifications with bastions, moats, beautiful scenery and a great trail system that is perfect for your next hike or run.
Extended trail system with endless options
Fredericia Ramparts' trail system is 18 km long in total and consists of a large network of trails that make it easy for you to plan your route. Walk along the moats or enjoy the view over Fredericia from the trails along the bastions – the options are endless!
Plan your trip to the Ramparts
Fredericia Ramparts have several seating areas where you will find tables and benches and bins and other spots that are particularly good for picnics. Take a seat at the White Water Tower on Prins George's Bastion, see the cannons or visit the Brave Soldier Statue statue at the the Brave Soldier Square (Landsoldatpladsen in danish), just a stone's throw from the White Water Tower.
Hike on Fredericia Ramparts with an audio guide:
Would you rather listen while you walk? There are several audio products related to Fredericia and the Fredericia Ramparts. Use them on your route around the Ramparts, or as a soundtrack for your hike.
See a list of the different audio walks here!
A family hike on Fredericia Ramparts
Use the Landsoldaten app to explore Fredericia as a family through an interactive universe. Find and collect historical objects on your hike, and play your way through Fredericia's war history.
Read more about the Brave Soldier app and find download links here!
See what others are sharing on Instagram