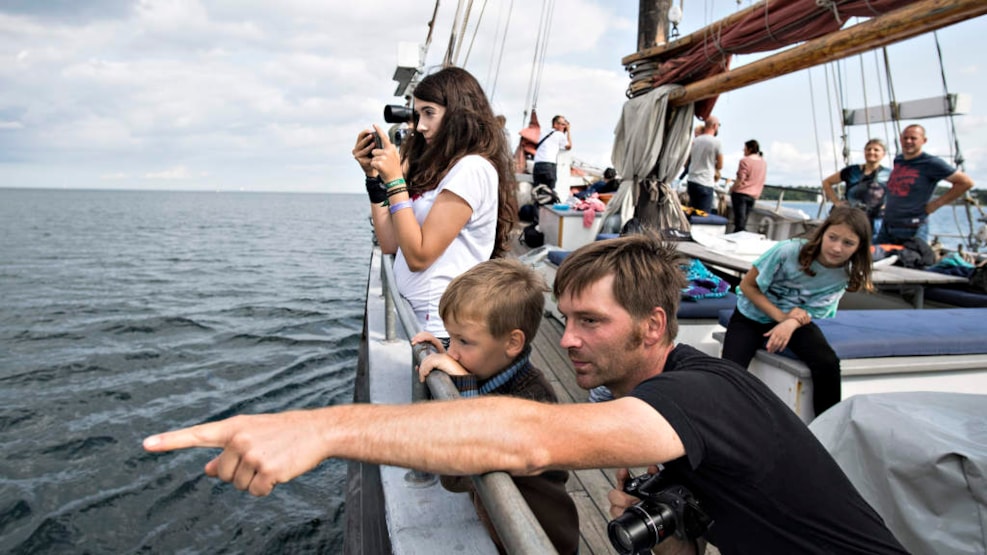 Whale watching from Fredericia with AVENTURA
Go whale watching in the Little Belt strait and discover the porpoise, the strait's own little whale.
Whale watching: Experience Little Belt's wildlife up close
Enjoy a whale watching tour on the AVENTURA, previously used for catching eel. Tours depart from Gammelhavn harbour in Fredericia. The tour sails along the strait under both the old and new Little Belt bridges. You'll learn all about the porpoise, one of the world's smallest whales to live in Little Belt. The strait has one of the world's densest porpoise populations, so you're bound to spot several on the trip.
Boat tour with experiences for children and adults
The AVENTURA boat tour will appeal to people of all ages. The captain often invites children to have a go at steering the 87-tonne boat from inside the wheelhouse. In the right weather and sea conditions, the AVENTURA has whale listening equipment on board so you can listen to the clicking noises the porpoises make when they communicate.
The porpoise, the star of Little Belt
Although Little Belt is home to many interesting animal and plant species, the porpoise is a bit of a star.
The porpoise and Little Belt have a unique shared history that goes way back. Because the porpoise has always lived and bred in Little Belt, it has become a permanent part of our maritime life. Porpoise hunting was popular in Little Belt, right from the Middle Ages to the early 1900s, and during both world wars. Porpoise blubber in particular was boiled into whale oil and used for lighting, and was therefore in high demand by residents who lived along Little Belt's shores.
Access to the porpoise exhibition
Your whale watching ticket also gives you access to the special porpoise exhibition at Henner Friiser's House in Middelfart – part of Middelfart Museum. Learn more about porpoise hunting in Little Belt, the biology of the porpoise, and try your hand at being a porpoise hunter in the exhibition's interactive games. The exhibition is aimed mainly at children and is perfect if you want to round off your whale watching trip with a little extra knowledge.
Learn about Little Belt with Naturpark Lillebælt
Naturpark Lillebælt is Denmark's biggest nature park and its main purpose is to create experiences and to protect and support Little Belt's flora and fauna.
Read more about Naturpark Lillebælt here!
Experiences in Fredericia
Fredericia has a wealth of experiences to offer. Discover Fredericia's cosy pedestrian streets, great shopping and fine dining, or get up close to history at Fredericia Ramparts, one of Europe's oldest and best-preserved forts.
See what others are sharing on Instagram