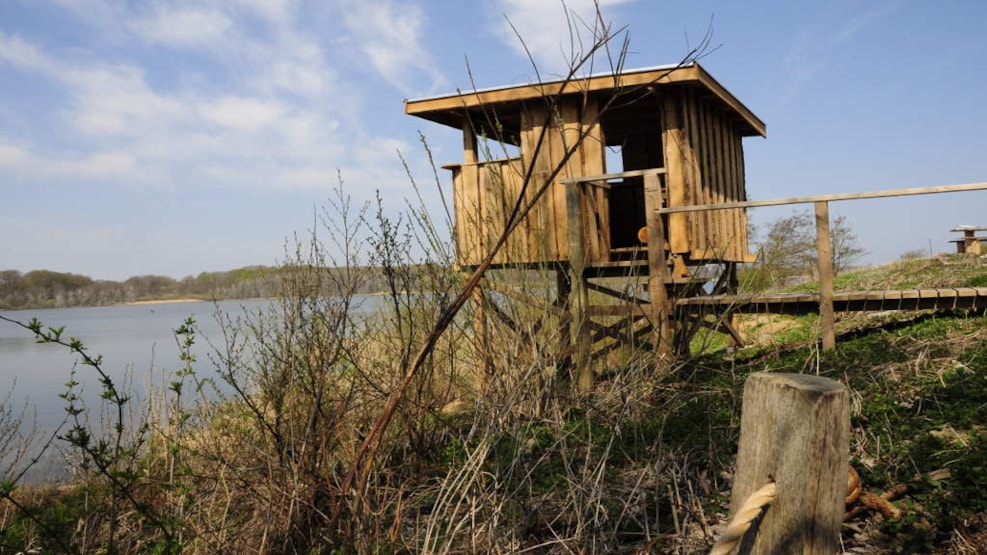 The Bird Tower at Rands Fjord
The Bird Tower is a lookout point on Rands Fjord and is therefore great for some unique birdwatching.
Visit the Bird Tower at Rands Fjord
The Bird Tower at Rands Fjord is built on a ridge overlooking the fjord and is the best spot for experiencing the rich birdlife and striking scenery of the protected area.
You'll find the Bird Tower a little over a kilometre from the car park at the end of the Fagerlien road. You'll also pass the Bird Tower on several of the area's hiking trails and cycle route, so there's plenty of opportunity to take in the views from the Bird Tower on your way around the area.
Find more information about the hike here and the bike route here!
Bird species in the area
Birds flock to Rands Fjord in their thousands, and the area is home to many breeding bird species. Lapwings and starlings gather in late summer in the damp meadows around the lake, and during migration you can see large flocks of foraging ducks, geese and swans.
The area is also a breeding ground for several special bird species such as the marsh hawk, kingfisher and the red-backed gull. In spring the nightingale sings beautifully and adds to the atmosphere of the landscape.
The white-tailed eagles at Rands Fjord
Rands Fjord is also a regular breeding ground for white-tailed eagles, which use the area as a hunting ground. The white-tailed eagles are a spectacular sight with their wingspan of up to 240 cm, soaring over the fjord to mark their hunting ground.
You can see the eagles from the Bird Tower as they search for prey. Sometimes the eagle strikes a fish that is so heavy that it can't take off from the water with it. Here you may be lucky enough to watch as the eagle seeks shallow water by rowing with its wings while holding onto the fish.
See what others are sharing on Instagram