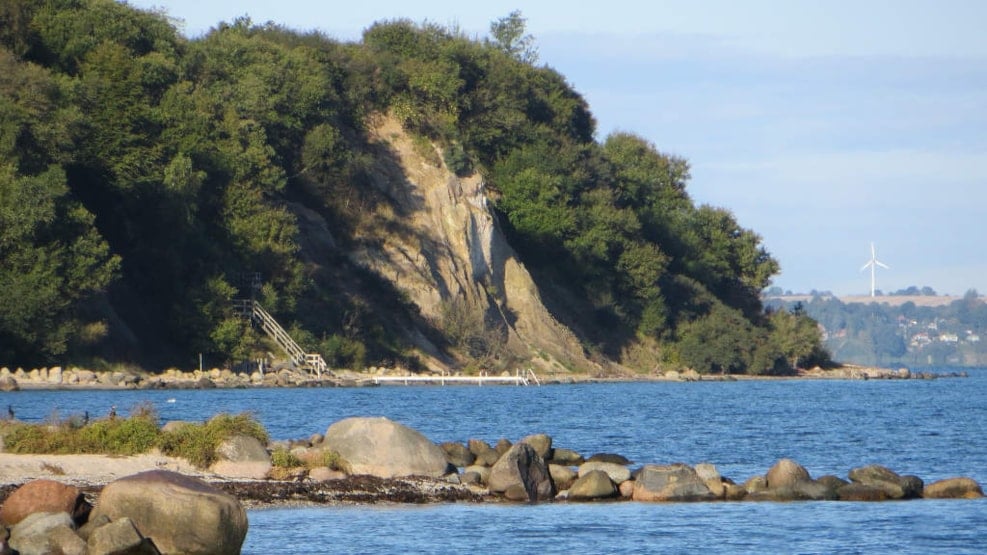 Snorkel trail by Trelde Næs
The Trelde Næs snorkel trail is ideal for seeing the fascinating world that lives below the water's surface.
Experience life under water
When you are on the water and on the beach, you rarely see what's really going on below the surface. The snorkel trail at Trelde Næs gives you a unique opportunity to dive down and experience life on the seabed up close.
The snorkel trail is 100 metres long and consists of 6 underwater posts. Each post hides a piece of text with accompanying pictures or questions that you have to dive down and try to guess the answer to. The 6 posts are made of concrete. They stand on the seabed and are connected by a chain: Follow the chain and you're guaranteed to reach the next post.
The start and end of the snorkel trail are marked with an orange buoy.
Snorkelling conditions at Trelde Næs
The snorkel trail is rated 1 and is suitable for beginners and intermediate snorkelers thanks to the calm currents in the area. The snorkel trail is easily accessible from the shore and has a maximum depth of 1.70 metres.
No special permits are required to snorkel in the area.
The snorkel trail can be enjoyed all year round, and depending on the season, you can spot e.g. toothed wrack seaweed, bladder wrack, prawns, crabs, pipefish, sticklebacks, flatfish and small fish on your snorkelling trip. The trail offers plenty of great opportunities for macro photography.
Read more about diving and snorkelling in Fredericia here!
Practical information
Parking facilities: Parking is available in the Trelde Næs car park. Address: Trelde Næsvej 290, 7000 Fredericia.
Find the snorkel trail: From the car park, take the gravel path through the woods to the beach. When you come out of the forest, the snorkel trail is on your left, marked with 2 orange buoys.
Google Earth coordinates:
Latitude: 55 37 29 N
Longitude: 9 50 48Ø
Trelde Næs Nature Centre
Combine your snorkelling experience with a visit to the Trelde Næs Nature Centre, right on the beach. Here you can learn more about the area and borrow equipment from the equipment bank. The Nature Centre also has a special pass, the Outdoor-Pass, which is a free pass with opportunities to complete nature-based activities.
See what others are sharing on Instagram