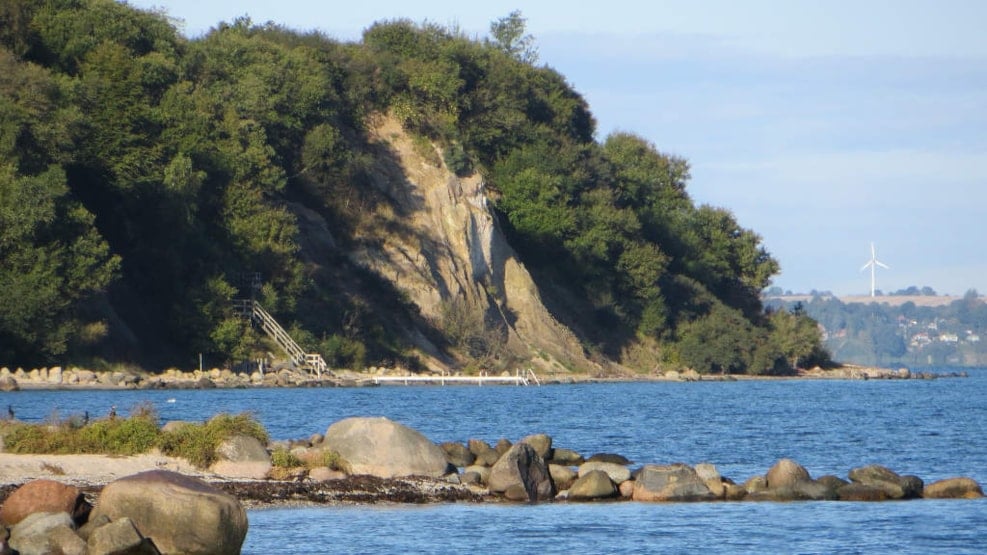 Snorkel trail at Trelde Næs
Jump into the water at Trelde Næs and experience life in shallow waters. Follow the snorkel trail which runs along the beach. The snorkel trail is for beginners and intermediate snorkellers.
What can you experience?

When swimming at the beach, we do not normally experience what is going on underneath us, but life in the shallows is actually very exciting. There is plenty of life and we hope that our snorkel trail will make you more aware of it. The first theme along the snorkel trail is "Life in Shallow Waters". You have to dive down to this post. Hold your breath, read the text and try to answer the question. There are pictures to guess and six questions to read and answer as you progress along the snorkel trail.

You will of course have to bring your own snorkelling gear with you, but otherwise the underwater trail is free for you to use. There is a chain for you to follow between the six concrete blocks, so you can always follow the chain to get to the right spot. The start and finish of the trail are indicated with large orange buoys.
The snorkel trail is 100 metres in length.

There will be changing themes along the snorkel trail.

The first theme is:
- Life in Shallow Waters

The next theme (in June) will be:
- The Little Belt Nature Park
Facts
Directions for drivers: Drive towards Trelde Næs. At the end of the road, you will arrive at a car park when you can park up. Then walk down the gravel road towards the beach. When you leave the woods, you will see the snorkel trail to your left shown with two orange buoys.
Google Earth
Latitude: 55 37 29 N 
Longtitude: 9 50 48 E
In an out of the water: The snorkel trail is accessible from the beach front
Highlights: toothed wrack, bladder wrack, shrimp, crabs, pipe fish, sea stickleback, flatfish and small fish
Best season: All year round
Depth: max. 1.70 metres
Length: 100 metres
 
Current: Tidal waters on the Vejle Fjord side near the snorkel trail at Trelde Næs are normally calm.
Difficulty (1-5): 1
Licenses required: None
Facilities: There are public toilets by the beach at Trelde Næs where you can change clothes.
Photography: Plenty of opportunities for macro photography on the snorkel trail