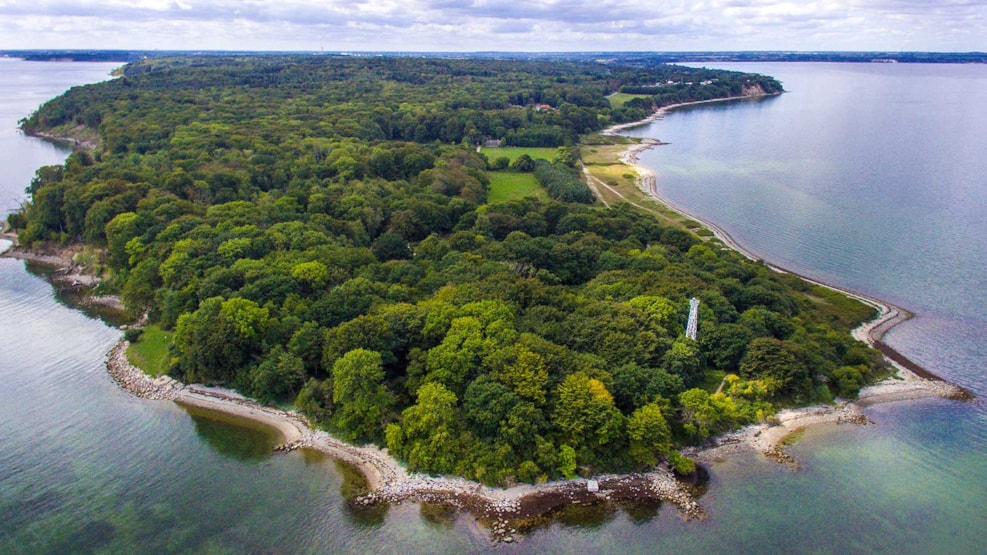 Tent plot at Trelde Næs
Spend the night in the heart of nature at the Trelde Næs tent plot.
Accommodation in nature
Wake up to birdsong in the heart of Trelde Næs' stunning nature! Trelde Næs' large nature areas boast a unique animal and plant life, and from the area's campsite, you get to experience it all up close.
Trelde Næs' very own campsite in the heart of the forest
At Trelde Næs there is both a Shelter Plot North and Shelter Plot South, but if you don't want to sleep in a shelter, you can stay in your own tent at Trelde Næs. The area's small natural campsite is located at Shelter Plot North, just 300 metres from Trelde Næs' car park and the old Alvsgård Farmhouse.
There's no need to pre-book the tent plot, but you must use it according to the 1-2-3 free camping rule. You can also use the campsite's campfire during overnight stays.
Free camping according to the 1-2-3 rule
You are allowed to pitch a tent in selected state forests within certain areas, and Trelde Næs has one such area in Shelter Plot North. You can camp here for free overnight, but you have to follow the 1-2-3 rule.
The 1-2-3 rule consists of 3 rules: You can spend a maximum of 1 night in the same spot, you can pitch a maximum of 2 tents and these must be a maximum of 3-person tents.
Read more about the free camping rules here!
Practical information
Free accommodation: The tent plot is free and can be used even if you have not booked a shelter at Shelterplads Nord, which is next door. REMEMBER the 1-2-3 rule!
Toilet facilities: There is access to water and a (disabled) toilet at the end of the Avlsgården farmhouse by the car park. You will also find toilets at the Trelde Næs Nature Centre, which is located down towards the beach, a few minutes' walk from the car park. These are usually open all year round, but may be closed during periods of hard frost.
Bathing facilities: You can purchase a shower at Trelde Næs Camping, which is a short distance from the shelter site.
If you want to build a fire on your shelter trip, there is firewood by the farmhouse, about 50 metres up the forest path towards Shelter Plot South. Firewood costs DKK 25 and must be paid to MobilePay no. 953318.
Please keep all dogs on leads in the area.
Discover Trelde Næs
The large nature area at Trelde Næs boasts many exciting experiences and activities. Read more about what you can experience at Trelde Næs and about the area's distinctive history here!
See what others are sharing on Instagram