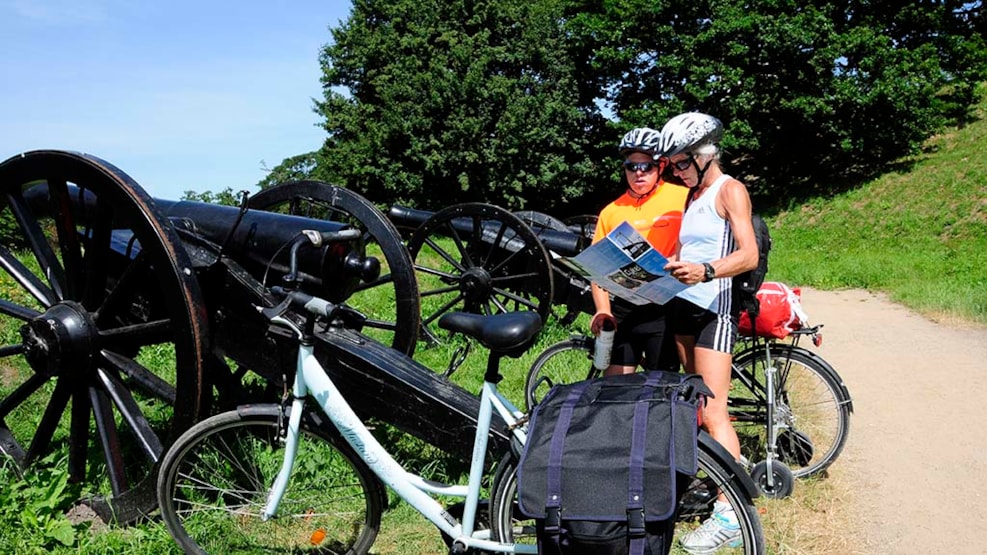 The 6th July route – 28 km cycling route
The 6th of July route takes you through both Fredericia's exciting history and incredible scenery.
Discover Fredericia's history and nature
The 6th of July route is a 28-km long cycle route that takes you through the best parts of Fredericia. The tour goes from the historic town centre to the scenic views and countryside villages of the surrounding area.
The 6th of July route is available in the Naviki cycling route programme, which is available both online and as an app. View the route here or via the blue box on the right!
You can also find a printed version of the route map at Fredericia Turistbureau at Fredericia Library & Visitor Centre, Prinsessegade 27, 7000 Fredericia.
Historic cycle route
The 6th of July route is named after one of the most important days in Fredericia's history, 6th of July 1849, the date of the Sortie from Fredericia. Here the Danish forces succeeded in defeating Schleswig-Holstein, who had seiged the fortress town, and Fredericia Ramparts played a particularly decisive role in this victory.
Read much more about Fredericia's exciting history here!
Cycling in nature
From historic Fredericia, the route continues through the beautiful countryside of Rands Fjord and Trelde, where Swedish soldiers were stationed in the 1600s. Trelde offers a beautiful view over Vejle Fjord and Little Belt, which is part of Naturepark Lillebælt. At Treldetoppen lookout (Vejsenholtvej 11), take a well-earned rest and enjoy the view.
Up for more? Continue towards Trelde Næs
If you're up for a few more kilometres, continue all the way to the forests and beaches at Trelde Næs before the route leaves Trelde and heads back towards Fredericia.
6th of July route as a guided tour?
Cycle the route on your own and enjoy the beautiful scenery along the way or book a guide to join you. They'll tell you about the exciting history and natural beauty of Fredericia as you cycle.
Book a bike guide at Visit Fredericia by phone: +45 72 11 35 12, or email: visit@fredericia.dk.
See what others are sharing on Instagram