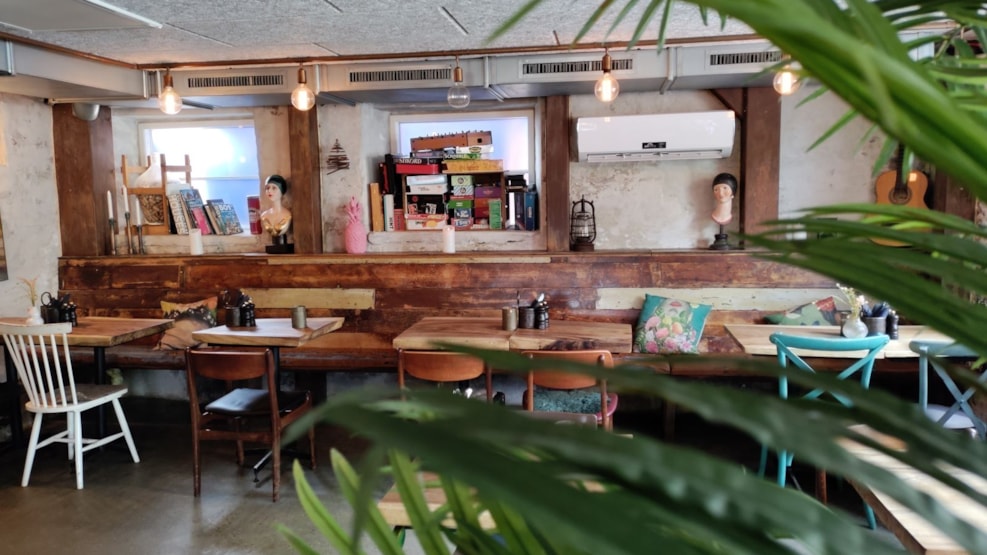 Café MUMS
Café MUMS serves delicious food and tasty refreshments in a cozy environment.
Café MUMS: Dining place with homely, rustic ambiance and a view of Little Belt
At Café MUMS, your taste buds are pampered in unique surroundings!
Café MUMS is located in cozy and rustic cellar premises centrally in the Old Habor and right on the shores of Little Belt. Here, you can enjoy delicious food made from good, fresh ingredients, have a cold refreshment, or savor something hot to drink.
Relaxation and lounge atmosphere in the cozy cafe
Café MUMS exudes a homely coziness without compromising on high quality. Enjoy a break from a busy day or challenge your family with a board game while waiting for your food. On the menu, you'll find a selection of familiar classics like Fish 'n' Chips and open-faced sandwiches, as well as delicious snacks.
Experience the atmosphere in Gammel Havn with outdoor seating
In spring and summer, you can move outside to one of the tables on Café MUMS' large floating barge, located in the harbor basin, and enjoy the bustling life of Gammel Havn. Enjoy a glass of rosé or a cold beer on the barge to the sound of Little Belt.
Brunch and a cafe during the day, a restaurant and bar in the evening
At Café MUMS, you won't go home hungry! The café offers a variety of delightful dishes from morning till night. Enjoy brunch or lunch during the daytime, or a good evening meal followed by a delicious dessert.
On the weekends, you can enjoy Café MUMS' weekend brunch in the morning or relax with drinks in the evening when the café transforms into a cozy lounge bar. Here, you'll find everything you need for a pleasant dinner for two or a lovely evening with friends.
See Café MUMS' menu card here!
Experience Fredericia - a city filled with experiences
In addition to being a part of the Gammel Havn environment, Café MUMS is also located in the heart of Fredericia's new district, the Canal District, and just a stone's throw away from the charming pedestrian streets of the fortress town. In Fredericia, you'll also discover a plethora of experiences in culture, nature, and history, as well as plenty of activities year-round.
Visit our event calendar to stay updated on what's happening in Fredericia
Se, hvad andre deler på Instagram