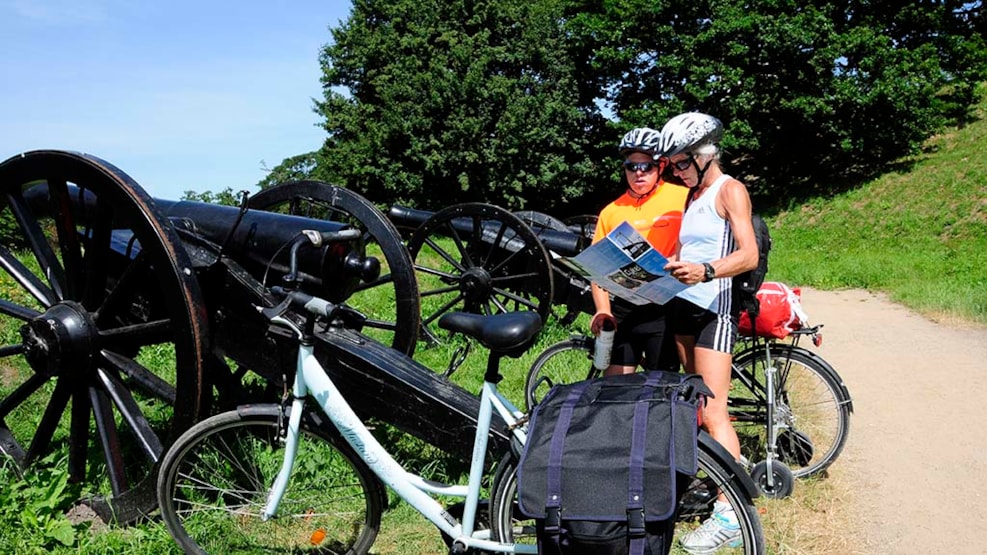 6th of July Route - 28 km
The 6th of July Route is a 28 km cycling route which takes you through the best of Fredericia. From the history of the town to scenic views and countryside villages. You can see a map of the route via the link on the bottom of the page under LINKS or you can get a hard copy at the following locations:
Fredericia Library & Visitor Center, Prinsessegade 27, 7000 Fredericia OR VisitMiddelfart, Havnegade 6, 5500 Middelfart
The route is named after one of the most important days in Fredericia's history, the 6th of July, 1849. On this day, Danish troops performed a daring surprise attack and beat the Schleswig-Holstein army, which has besieged the town. Fredericia Rampart is one of Northern Europe's most well-preserved of its kind, and form a beautiful historical site. 
From the history of Fredericia, the route runs through the stunning countryside by Rands Fjord and the village Trelde, where Swedish soldiers roamed in the 1600s. From Trelde there is a great view of Vejle Fjord and at the spot Treldetoppen (Vejsenholtvej 11), you are welcome to take a seat, rest your legs and enjoy the view. 
If you're up for a few more kilometres, it is possible to continue all the way out to the beaches and forests of Trelde Næs, before the route heads back towards Fredericia. 
This route is ideal for exploring nature and history on your own. However, if you're interested in a more detailed account, you can book a guide to come along with you and tell the exciting tales of the town. To book a guide, contact Visit Lillebælt/Fredericia at +45 7211 3512 or visit@fredericia.dk.

Enjoy your trip!