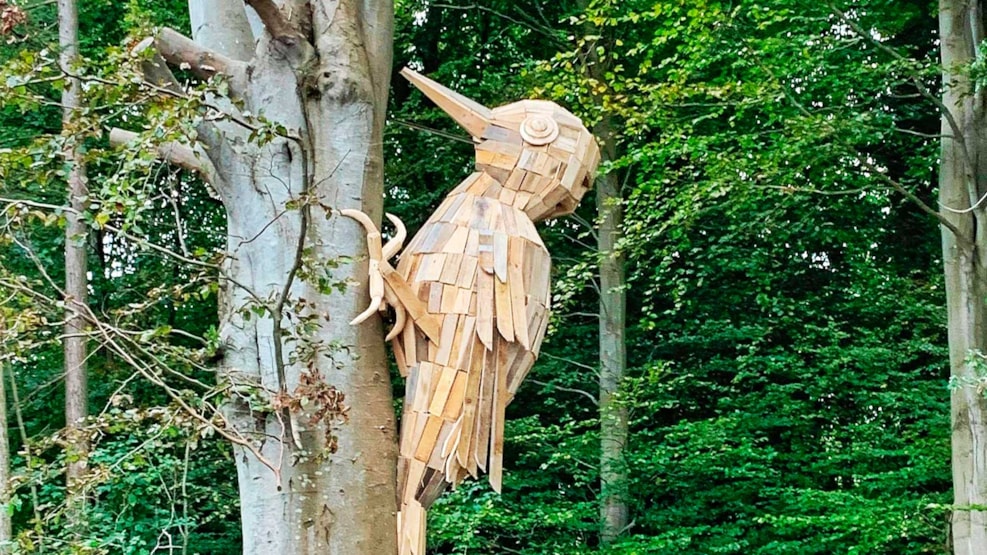 The Black Woodpecker - Wooden Sculpture at Trelde Næs
Visit the natural area and spot the large black woodpecker made of wood.
New Landmark at Trelde Næs
It's no secret that Trelde Næs is home to a variety of special animals. The beautiful natural area, which is included in Denmark's Nature Canon, has gained a new resident that stands out.
At the Trelde Næs Nature Center, the new symbol of Trelde Næs, a large black woodpecker made of wood, is displayed. The new wooden sculpture is 4 meters tall, weighs 150 kilograms, and is crafted from recycled wood. The black woodpecker is created by the local artist Mariane Ladegaard Jensen, who resides on Trelde Næs. Mariane Ladegaard Jensen is also the artist behind the wooden sculpture of the owl, which is hanging in Fuglsang Forest.
The Black Woodpecker: A Symbol of High Biodiversity
The fact that Trelde Næs' new symbol is a black woodpecker is not coincidental. The black woodpecker, which is one of the rarer woodpecker species, is one of the special bird species that can be found and breed on Trelde Næs. The presence of black woodpeckers on Trelde Næs is, therefore, a clear indication of the area's high biodiversity.
Visit Trelde Næs and Spot the Black Woodpecker and Its Friends
Trelde Næs is a fantastic natural area located along the Little Belt. Here, you'll find both forest, beach, meadows, and a rich variety of plants and wildlife. Explore the area and see if you can find the large black woodpecker and its living companions.
Trelde Næs offers excellent hiking routes as well.
See what others are sharing on Instagram