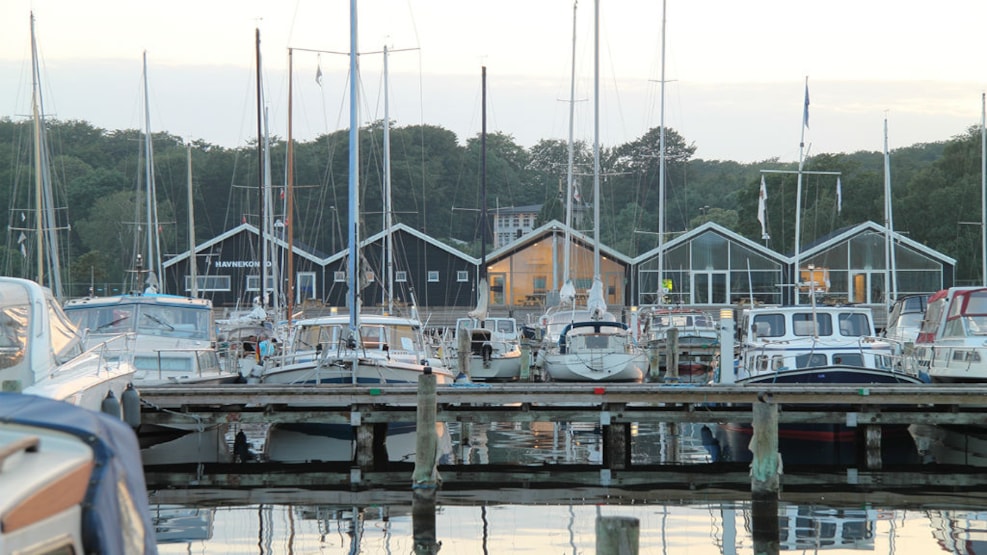 Marina Fredericia
Marina Fredericia is a modern marina with excellent facilities, beautiful natural surroundings, and experiences close by.
Marina Fredericia - located in beautiful surroundings
Marina Fredericia is Fredericia's marina and with its excellent location in the heart of Denmark, it's the perfect place for your next stay.
Experience the unique approach to the marina
The approach to Marina Fredericia is truly unique. Hilly terrain on both sides and a view of the Little Belt Bridge provide an incredibly beautiful experience when approaching the marina. The marina is sheltered from the currents of the Little Belt and offers calm waters. Here, you'll find a great sailing environment with both permanent berths and visiting sailors.
Newly renovated harbor house with modern and family-friendly facilities
Marina Fredericia is a harbor with great facilities and lovely surroundings. The newly built harbor house offers excellent and family-friendly sailor facilities with everything you need. At the marina, you can enjoy good food at the COZY Fredericia restaurant or ice cream at Mrs. Møllers Ice Cream Shop, which is just a stone's throw from the boat berths. You can also use Marina Fredericia's outdoor dining and sitting area with tables, benches, and grills.
View the harbor map with facilities here!
Marina Fredericia offers electricity and water on all piers, a boat and dinghy slipway (for a fee), and a sublift (for a fee).
Prices and rates for Marina Fredericia 2023
You can find the rate list for 2023 via this link.
Payment is made at the machine at the harbor office, where you can also obtain cards that grant access to toilets, showers, and waste containers. There is also free internet available in the harbor, although the range is limited. The network code is provided on the white receipt when purchasing a ticket.
Fredericia's best autocamper site with a sea view
At Marina Fredericia, you'll find the city's best autocamper spots with excellent facilities and beautiful views. The camper spots have connections for both electricity and water and access to the marina's top-notch facilities.
Short distance to shopping and city life
From Marina Fredericia, it's only 1 km to shopping opportunities and just 3 km to the charming city center of Fredericia, with excellent dining options and shopping opportunities. Find more information about Fredericia's cozy pedestrian streets here!
A vacation filled with nature experiences
From Marina Fredericia, you're just a short distance from the beautiful beach at Erritsø Strand and the large natural area of Hannerup Forest. In Hannerup Forest, you'll find an extensive network of walking and running trails, as well as a mountain bike trail.
Learn more about Hannerup Forest here!
Explore Fredericia - the fortress city with a unique history
Fredericia has a truly unique history waiting to be explored. Here, you'll find culture, nature, and history all within a short distance.
Did you know, for example, that Fredericia has one of Northern Europe's oldest and best-preserved fortifications? The extensive fortification of Fredericia Ramparts surrounds the entire city center like a beautiful green oasis in the midst of bustling city life, steeped in history. You can also visit the new city district The Canal District, designed with inspiration from Fredericia's original city plans. Fredericia is also part of Nature Park Lillebælt, Denmark's largest nature park, where you can get up close to the area's nature.
Learn more about Fredericia's many offerings here!
What's happening: Experiences and events all year round
Fredericia is a lively city filled with plenty of activities. We have gathered it all in our event calendar, where you can stay updated on upcoming events. See the event calendar here!
Watch out for porpoises when sailing in the Little Belt
When you sail in the Little Belt, you are also sailing in Natur Park Lillebælt, so you should be aware of the biodiversity of the strait. You can learn more about how to protect the Little Belt's small residents, the special porpoises, in Nature Park Lillebælt's code of conduct "Noise and Porpoises." Find it here!
See what others are sharing on Instagram
#fredericiamarina #marinafredericia #fredericialystbådehavn #visitfredericia